What is Timebucks and how does it work?
Timebucks is an online earning platform. It works like other Get Paid To (GPT) websites offering rewards for simple tasks – you can spend an hour and earn cash.
They have operated under the name "Australian clearing Pty Ltd" since 2014. 
It is available in many countries. You will be able to signup directly if you visit the website (and your country is supported).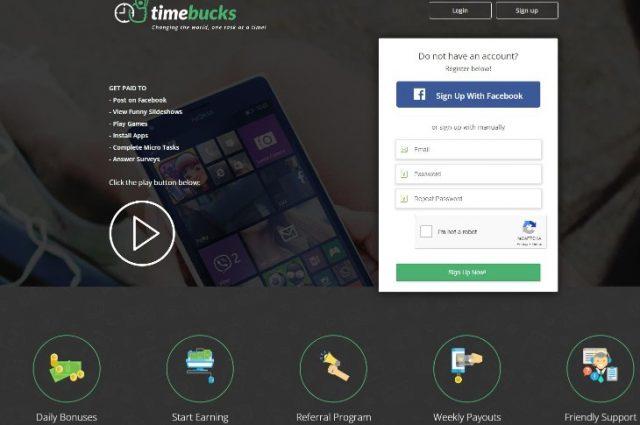 Using the Timebucks application on playstore/appstore, you can know whether your country is on the list or not.
One thing that sets timebucks apart from other similar platforms (like Serpclix and Surveytime), is the sheer number of ways you can earn money from. There are a lot of tasks you can do to earn money.
How to sign up on Timebucks
The signup process at Timebucks is very easy and will only take you three steps. 
First, visit their signup page. 
Then, choose to sign up with either your email or Facebook. It is easier with Facebook since you won't be required to fill up more details. You can also fill in your mail and input your password. 
Finally, check your email for a confirmation link. Read the agreement, agree, and you are good to go. 
You can download the Timebucks application on your phone store for easier login. 
What are the different ways to make money on Timebucks?
There are several ways that you can work on Timebucks and earn real money. 

Tasks: Posting and following people on TikTok can earn you money. However funny it sounds, Timebucks will pay you for creating a TikTok account, posting, following, and unfollowing people on TikTok. There are tasks for other platforms as well.
Content: Timebucks will pay you for viewing content. How does this one work? Well, visiting stipulated websites for a certain period, usually in seconds, gets you paid. 
Surveys: Timebucks is partnered with 4 different survey networks which you can use to earn money and enter sweepstakes.
Offerwalls: You can signup for various websites/services and earn a good amount of money. You can even get (technically) free VPN memberships with it.
Ali Express Cashbacks: You get cashbacks in timebucks for purchasing through Ali Express. It looks like they use their affiliate commission to give you some cashback into your timebucks account. It's very useful if you purchase products from Ali Express.
Referrals: Refer your friends and get some commission based on their performance.
Interests: This one is a very unique concept. You basically share a search engine results link with your friends, and get paid when this visit that link to research. The earnings are limited by some terms, but you can still earn a decent buck for doing nothing.
Premium: You can buy their premium membership to get access to more tasks, and earn more money for doing the same tasks.
Sweepstakes & Rewards: Timebucks gives you bonuses and rewards daily. Upon completing ten tasks per day, Timebucks pays you. You get to earn between $0.001- $10. There are also sweepstakes entries which can earn you some good bonuses from time to time.
Timebucks commission levels are another opportunity for earning. For every referral of your referral, you get to earn a certain percentage. 
Level 1 = 15%
Level 2 = 2%
Level 3 = 2%
Level 4 = 2%
Level 5 = 2%
A sweepstake prize giveaway is a good way to earn from Timebucks. You can earn up to $250 as a giveaway. To qualify daily, you need to have entries. Entries can be attained in the following ways:
Every $0.001 = 1 entry
Daily login = 100 entries 
Referral program = 200 entries
Besides, Timebucks allocates $500 for 30 winners daily. This is allocated as follows:
Winner 1 = $250
Winner 2 = $50
Winner 3 = $50
Winner 4-10 = $10
Winner 11-30 = $5
Easiest Tasks to do at Timebucks
Confused with the large variety of tasks available? No problem. Just check out these simplest and easiest tasks that I would recommend you to do.
Watching can also get you paid at Timebucks. The website posts its videos from its advertising agency. Viewing 3 of the videos gets you a chance to win some cash. Moreover, YouTube videos also can help you earn. It depends on the amount of time you spend watching. 
Completing captchas is also a good way to earn from Timebucks. Most of you are familiar with captchas while verifying your identity. In this case, you get paid for completing captchas. For every 20 successfully solved captchas, you earn $0.003. You earn an extra $0.10 if you are among the top 50 individuals to solve the captchas. The interesting part- you can work on as many captchas as you want. The website lacks a limit for that. 
Finally, taking surveys can make you earn from Timebucks. However, this varies depending on an individual's profile, location, and interests. As per a survey, you earn a minimum of $1. 
How much can I earn and how do I get paid?
Your earnings on Timebucks are dependent on the amount of time you give to it. There are lots of tasks to complete, and you can earn anywhere from a couple of dollars to 50-100$ every month depending on how many tasks you do.
But the hourly earning rate of Timebucks is similar to microtasking sites, such as Picoworkers and Micro-workers. So it is basically a beer money site.
At Timebucks, your earnings are dependent on the tasks mentioned above. You will need hard work and consistency to make more money. However, they have a minimum withdrawal threshold of $10. They pay through Bank Transfers, Bitcoin, AirTM, Payeer, and Neteller.
They don't support Paypal officially, but you can use AirTM to get paid via Paypal (although at a little higher fees). Nevertheless, there are enough options for people all over the world to withdraw easily.
Timebucks is a legit company that pays you your full earnings once you've completed tasks. It is one of the GPT websites that you must try. Check out some payment proofs below.
Timebucks Payment Proofs
Here are two payment proofs for Timebucks. One is of a bitcoin withdrawal, while the other is via Paypal. They no longer support Paypal (directly), and you need to use AirTM if you want the money in your Paypal account.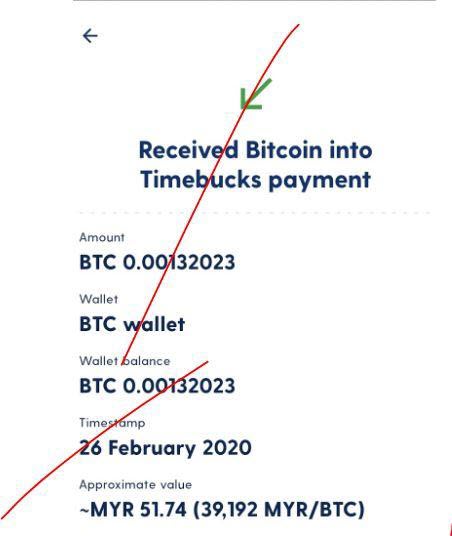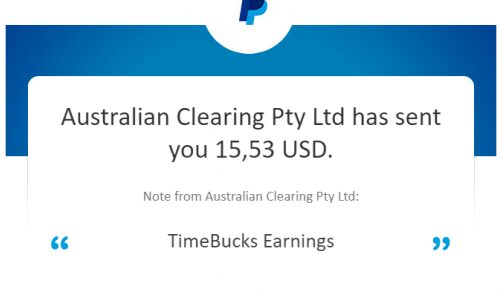 More Reading for you…