Last Updated on October 17, 2021
Note: Before you start, let me just mention that you cannot earn much from this site, just like 1-2$ a day. Your time is better invested in many other types of paid tasks you can do online.
Picoworkers is another micro-tasking website, similar to Microworkers. I signed up for picoworkers in a desperate attempt to find some work to do online, as a lot of my regular websites were out of work. I did some jobs there, but ultimately gave up as I think it does not pay enough for the amount of effort you put into it.
What is Picoworkers? What are Micro-Tasking Websites?
As I said above, picoworkers is a micro-tasking website. You are given simple jobs to complete, which pay you a small amount of money. Collect enough money to cashout and you get paid. Similar to Microworkers, it allows you to post your own jobs as well. This way, you can get others to do similar tasks such as:
Liking, Commenting or Sharing your social profiles/posts.
Website or App Signups.
Website clicks or engagement.
Social media engagement such as Youtube views and comments.
This is 90% of the available jobs on the website.
How can I work on Picoworkers? (Jobs/Tasks available)
The jobs on picoworkers are usually about social media engagement. Users post jobs that require you to go to their social media profile or channel, and then follow/comment/like/share them so that they can boost their profile.
To be honest, most of the tasks seem downright spammy. People trying to artificially increase their social media stats. Personally, I would refrain from participating in such websites.
Here is a screenshot of the types of jobs available: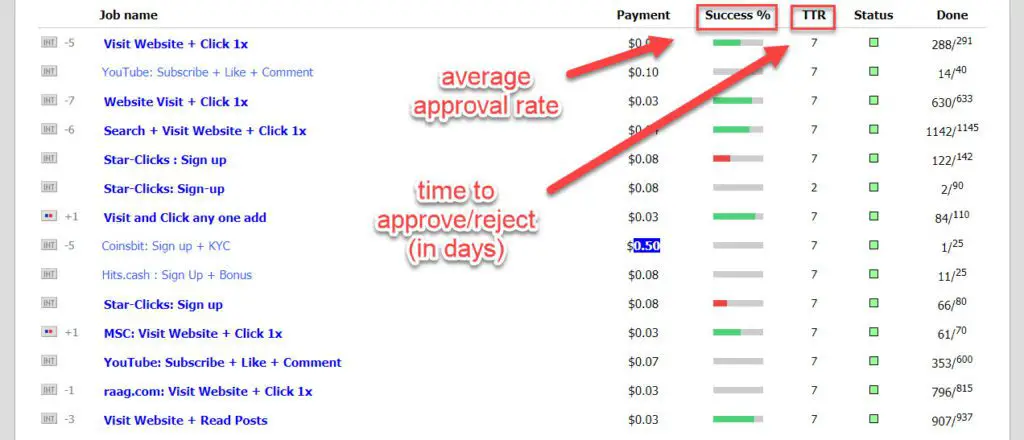 The job board has several columns such as "Success %" and "TTR". They are explained below:
Job Name: It is the title of the job. It also briefly describes what the job requires you to do. As you can see, most of the jobs are about visiting a website and browsing it, or liking/commenting a youtube video or social media post.
Payment: The amount that will be credited to your account upon successful completion of the task.
Success %: The average approval rate of that job. Jobs with a low success % should be avoided as they waste your time.
TTR: Time to Rate. The time required to approve/reject the job upon completion (in days). Most jobs are rated much before the TTR, it's just an upper limit.
Done: The no. of jobs completed / the total no. of jobs posted. This gives you an idea of how long the job will be available on the board.
New jobs are posted every few hours, so you will never run out of jobs to finish.
How to increase your picoworker earnings?
You can follow some of the tips given here to considerably increase your earnings at Picoworkers.
Tip 1: Create a new set of fake social media profiles
Since most of the tasks involve sharing and engagement through social media, it is best that you create a new set of social media profiles for the tasks. This is because doing these tasks through your regular social profiles will make you share a lot of useless and "spam" content.
I would strongly suggest you to create a different account on all platforms that you wish to use with Picoworkers.
Tip 2: Install Lightshot extension to save time (Screenshot + upload)
Most of the tasks require you to submit a screenshot as proof. Now, Picoworkers does not have a screenshot upload facility. Thus, you must manually upload a screenshot to sites such as Imgur and provide the image link to the task owner.
The process of taking a screenshot, uploading it and providing the link can take some time. A way to eliminate some of this is to install the Lightshot extension on Chrome. This extension automatically uploads the screenshot to a server and provides you the link, shaving off precious minutes of additional work time.
Tip 3: Select Jobs with a higher success rate
This one is pretty self-explanatory. Tasks that have a low success rate means that they are getting rejected more often. Imagine wasting 10-15 minutes on a task, only to get it rejected. What a waste of time it will be. So it is best advised to only choose jobs with a high success rate.
How and when will I get paid by Picoworkers?
Picoworkers has some interesting modes of payment. Earlier they used to have around 6-7 modes of payment such as Paypal, Skrill, Amazon Gift card, Cryptocurrency. Even their homepage mentions these types of payment methods.
But when you actually go to their withdrawal options, there are only 3 options available to you (As of now).

As you can see, it offers withdrawal through Ethereum, Litecoin and Paypal (with varying processing fee). For those with no crypto wallets, Paypal seems to be the only real option. The minimum amount for withdrawal through Paypal is 5$. This is a legit paying site as you can find payment proofs all over the Internet.
Earn more with Picoworkers Referral Program
One thing that is interesting about Picoworkers is that it offers a referral program. They give you a link, and for each member that joins through your link, you get paid
5% from each deposit your referral makes (for creating jobs on Picoworkers)
5% from each task paid to your referral
This can make Picoworker a good earning opportunity for someone who can get a lot of referrals.
Some thoughts on Picoworkers and similar micro-tasking sites
I discovered picoworkers in a desperated attempt to find some source of income while all my other websites were out of work. I quickly realized that it is a very unfulfilling way to earn money.
Most of the tasks available on the site are downright boring and repetitive.
The tasks itself might pay well (compared to similar survey sites and PTC sites), but they take much more time to complete, as you need to submit proofs and take screenshots.
Your per hour income cannot exceed 1-2$ per hour, and that is when you are productively working on the tasks.
This is a "beer money" site in it's truest sense since you can only earn enough to buy yourself a beer or two when working on this site. I would personally like to skip this site. But if you are someone who's looking to earn a few bucks doing some very simple jobs, then this might be the site for you.