Full-time writers know that editing and proofreading is one of the toughest tasks in the industry other than preparing the first draft. Moreover, commitments make the idea of editing and proofreading even tougher. If you skip these two vital stages, proofreading and editing, you will likely have to work with impurities. 
Even native speakers make spelling, grammar, punctuation, and formatting errors. Eventually, we all need to proofread and edit our work after writing. 
Thus, the demand for proofreading and editing services has grown, and Scribendi is a website that has been in the market for a long time. Being in the business for more than 20 years implies that they mean business. 
What Is Scribendi and How Does It Work?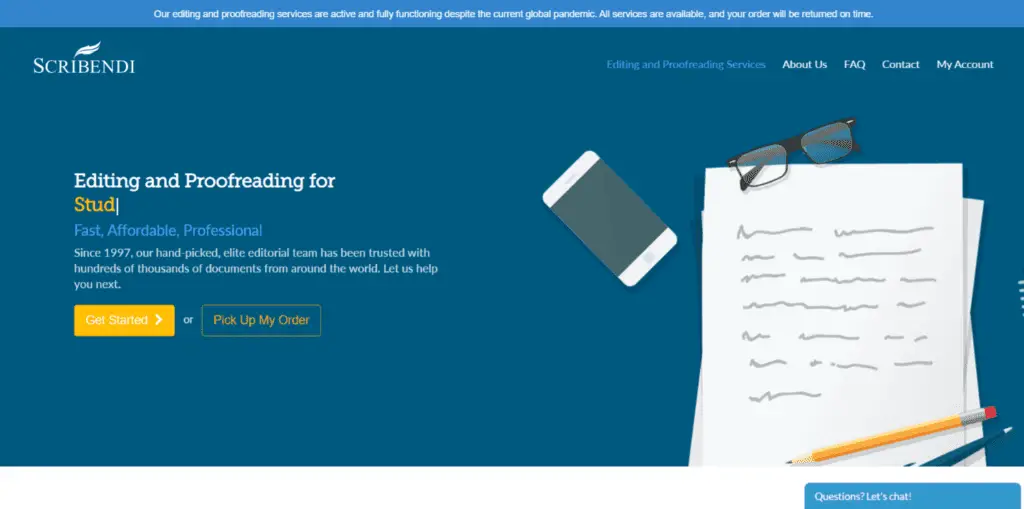 Scribendi is a Canadian proofreading and editing website that was established in 1997. It helps clients edit and proofread books, business plans, personal documents, and school assignments. 
The website is reputable for its high-priced premium services that have delivered 400,000 proofreading and writing tasks. 
Scribendi is proud of its elite editorial staff, which offers quick turnarounds. The website offers one free revision but lacks specifications for a money-back guarantee in case of poor jobs. This has contributed to some of the negative reviews the site has had. 
Before you Sign Up to become a Proofreader
There is one thing you absolutely need to know if you want to become a editor/proofreader. It will be a requirement of all the platforms (listed below) that you join.
You need to know how to use the "Track changes" feature in MS Word (2013 or above).
Here is a simple video you can watch to learn it:
Secondly, since they have clients for different levels of academic discipline, you should be able to offer your services as required. Thus, knowledge of various formatting styles is vital. Mastering APA, MLA, AP, CMS, CSE, Chicago, and Turabian is necessary. 
If you have no idea about what the above terms mean, you should probably learn about them.
Different types of papers/articles use different formatting styles. You will be informed of the style that you are required to edit in. The best article I found explaining the quirks and differences between these styles is from Wordvice.
Apart from that, it goes without saying that you need a good command over the English language.
Here are some simple things you can do right now to gear up:
Improve your grammar and vocabulary. As humans, our conversations consist of repetitive use of words but editors like you are an exception. The stronger your English, the easier for you to get clients.
Learn to pitch a proposal and start crafting cover letters. The only way to stand out from 40 other bidders is to showcase what you have to offer that others can't.
Dig deep under a domain of your choice. Get deep insight and training from the industry's best editors. These Udemy courses give you the top courses for editors under different domains. If you are looking for something free, check out this Youtube Playlist from Khan Academy.
The Signup Process and Working at Scribendi
Scribendi is strict during their application process. Meeting their requirements will automatically induct you to their platform. Be assured that they pay their staff very well. 
Requirements to work on the platform include the following: 
A college degree in a related field. 
Minimum of 3 years in proofreading and editing
Portray English native skills
Excellent reading comprehension skills
Following instructions keenly and in detail
Independent working
Meeting deadlines
Able to proofread an average of 1,000-1,500 words/hour
Conversant with Microsoft tools
High internet speeds
PayPal account for payments. 
You have an added advantage if you possess the following: 
Knowledge in formatting styles, APA, Chicago, Harvard, and MLA
Access to additional writing tools, LaTeX, Publisher, Acrobat, and PageMaker
Graduate degree in relevant field
Scribendi discourages email applications. Moreover, you have to wait for them to call or email you once you can proceed to the next step after the application. Avoid calling them as you wait for your verdict since they can cancel your application. 
Read their employment FAQ before applying to be conversant with their rules and regulations. When satisfied, you can apply to the site through this link. 
On the application page, there are a series of questionnaires that you will fill out to show you understand the job details. Most of the questions relate to the requirements listed above. They include the following:
Have you read the employment FAQ?
Do you have secure broadband or high-speed internet?
Does your computer have up-to-date virus-checking software?
Can you receive payments in USD through PayPal?
Do you have Microsoft Office 2010 or higher?
Can you commit to editing or proofreading at least 10 hours per week?
Do you work for one of Scribendi's direct competitors?
Can you edit at a speed of at least 1000 words per hour?
Do you confirm that Scribendi will perform regular quality assurance checks on my work?
Are you comfortable editing ESL documents? 
Do you own a PC that I can use for Scribendi's work?
You will also be asked about your time zone and availability in hours and days you can comfortably work for the platform. 
The other sections require you to state your education attainment, employment history, and other relevant editing and proofreading skills. 
In the final section, you will add a list of references(three) and supporting documents. Referees are contacted once hired to prove that information you have relayed is honest. 
You are given an exam after completing your application. A standardized test examines your English, editing, and proofreading skills. You are also given a paid trial test. Once you are done, you will receive an email if you're considered for the position. 
How much can you earn from Scribendi? And how will you get paid?
The website pays according to a project. Most reviews have indicated that the range is between $5 to $50 per hour, depending on the type of project and urgency. 
As such, you dictate the amount of income you make by your available hours. As much as Scribendi wants full-time editors, it is usually not a mandatory requirement. However, you must commit to 10 hours weekly during the application. They offer flexible deadlines as long as you meet them. 
Also, the websites have a variety of payment options besides PayPal. They include Visa, MasterCard, American Express, and Alipay for Chinese editors. 
Scribendi is one of the real sites that help writers earn through proofreading and editing tasks. Well, there are both good and bad reviews about the site. Even though there are no payment proofs for this site, it is definitely a legit and trusted site to work for.
More Reading for you…