Note: Unfortunately, the website is currently not recruiting in every part of the world. For selected parts, you will be prompted before moving to the next step if your country qualifies. 
Transcription jobs have increased during the years due to the flexibility they offer. It makes it easier to pick a job and choose where you can work to earn comfortably. 
What Is Way With Words? How Does It Work?
Way With Words is a transcription site that offers a wide range of services, including captioning, transcription, and proofreading. 
The global website allows users from all countries to apply and work. The best part about this website is its ability to induct beginner freelancers. However, you must possess good communication and relevant skills in the language you speak and the service you offer. 
The website has been functional since 2002 when it founded its headquarters in South Africa and the United Kingdom. The platform has other branches within Australia, Great Britain, and Canada. 
They acquire clients from all over the world with abilities to provide transcription services with 99 percent accuracy—most of its clients compliment the website for the good services it offers. 
Also, people find Waywithwords workable due to its emphasis on English fluency rather than your typing speed and skills. You have an added advantage if you possess a degree in English and are proficient in transcribing. 
Lack of the mentioned can easily hinder you from being a Waywithwords member. They offer a language test that lasts for 68 minutes, and their transcription tests are divided into three, screening, second and final stage. 
They acknowledge their tough requirement process. In their FAQ section, you will find them explaining and offering a few solutions for tackling the process. 
The Signup Process at Waywithwords 
You can sign up for the site as a transcriptionist through their application page. They offer free signup. Then, you will have to take tests, as mentioned earlier. 
They include a 68-minute English test and a three-stage test to test your transcription skills. Here is a checklist of the essentials you should have during the application process:
Fluent English skills
Ability to understand various accents. 
Accurate research skills
Good typing skills and speed
Proper formatting, and 
Ability to easily meet deadlines. 
After passing the tests, you are assigned a trainer who guides you to perform good work that meets their standards. After training, you are assigned paid work. The training also has low-paying tasks.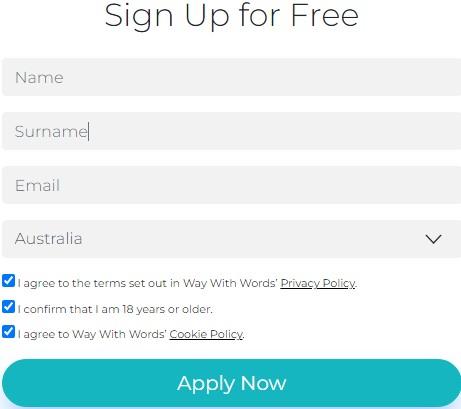 How Much Can I Earn from Waywithwords? How Will I Get Paid?
Waywithwords pays $.4 per audio minute for entry-level work. This can go up to $1.38 per audio minute, depending on the urgency and requirement of a task. 
Just so you don't miss out, per minute and audio transcribed are two different things. An audio file can last for 3-5 hours or longer editing. As such, beginners can earn approximately $6 per hour. 
Some websites offer a much lower rate for transcription work. You are free to take up work at lower rates, but it will be very difficult for you. It is pretty much impossible to earn a full-time income from Transcription jobs nowadays.
In the beginning, it took me 3-4 hours to transcribe a 30-minute audio file, but with time, experience and some little help from tools, you can dramatically increase your transcription speed. 
Audio quality, mumbling, and understanding accents are major setbacks that slow your progress. However, your earning potential depends on your skills as you work for the platform. 
For veteran transcribers, earnings range from $1.38 per minute, which comes to around $20 or more per hour. That's a good earning from working from home, right? 
Compared to other websites, Waywithwords has the best rates. The difference comes in the tests. Other websites offer easy tests, while cracking the Waywithwords test takes time. 
Starting can be tedious, but once you grasp the rhythm, it becomes easy to grab $20 per hour. 
Also, the website pays every month. Payment is made through PayPal and bank transfers for individuals around Europe. Since it pays monthly, there is no minimum threshold to be withdrawn. 
Waywithwords transcription may not be the best in the industry since other platforms offer average rates with easy tests to tackle. Making money from home might be your cup of tea, and working with Waywithwords is a good option. 
Unfortunately, the website is currently not recruiting in every part of the world. For selected parts, you will be prompted before moving to the next step if your country qualifies. Give it a shot whenever you read this, maybe it will begin accepting new applicants by that time.
More Reading for you…