Order! Order! 
Are you a sucker for Courtroom Dramas and Crime Documentaries? Do you love researching cases and watching how they unfold (Johnny-Amber trial, anyone?)
Then I've got a unique opportunity for you. You get to participate as a jury in a mock trial, and get paid for it. Amazing, ain't it?
Note: But let me inform you first that such websites only operate in the US. Plus, you need to be a US Citizen to participate in such trials.
Let's begin with the sitelist first, and then I'll explain what this job entails. First Things First.
List of the Best Online Juror Websites that still work (US Only)
A lot of the juror websites mentioned on the Interwebz have simply disappeared, or haven't been updated since the birth of the Internet. So here is a list of mock jury websites that still work today.
Jury Solutions
Jury Solutions conducts both online and in-person mock trials, and you can register yourself as a mock juror. They advise you to be patient, as you might not hear from them for a long time.
They say that opportunities vary with the location you are in. People living in cities have more chances of success with Jury Solutions.
It is the most "lawyer-themed" website out of all the other websites, and looks very professional.
They have long trials, sometimes spanning upto 8 hours but they pay fairly, upto 20$/hour.
Definitely worth a shot!
eJury (Best for Beginners)
This is one of the most popular juror websites, and is the brainchild of a very famous trial attorney– Christopher L. Bagby.
Even though the pay is a bit low, usually around 5$/case; they have the best network and the most amount of work. 
It's great for beginners, plus you are more likely to get work from them than any other website listed here. They even have a sample case on their website to get an idea of the work you'll be doing.
The average case here takes 30 minutes, and payments are made via Paypal.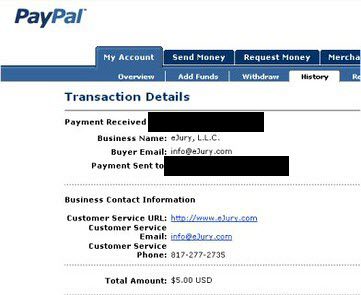 Online Verdict
Online Verdict is another popular mock jury/arbitration website, and works very similarly to eJury. But where it shines is the pay rate. They usually pay 20$/case, with some longer cases paying upto 60$ as well.
Plus, their panel size is larger and they usually look for upto 50 jurors for a case. So you can get lucky here as well.
The only problem is that they usually get undercut by eJury due to the price difference.
Sign Up Direct
Weird Name, right? Does not even resemble that it is related to arbitration or mock trials.
I wouldn't have much hopes with it, as the website is very barebones, and the signup form looks like it has been made by a 6th grader learning HTML.
But they do conduct online and in-person sessions (according to the website), and even have photos of juror sessions on the page. 
Payments are made via CashApp.
Jury Test
Jury Test is another website that hasn't been updated in 2 decades. But it is still functional, and has some clients that it still works with. Kind of a legacy website, so don't have too much expectation from it.
It is more inclined towards the attorneys that will use this website, instead of the mock jurors. The application form is simple and the usual terms and conditions apply.
Resolution Research (Now Clear Voice Surveys)
This one is kind of confusing, because there is a website called "Resolution Research", which deals with mock juries and paralegal surveys and stuff. Think of it like a survey website for legal professionals.
But now "Resolution Research" has been acquired (or transformed) to Clear Voice Surveys. Now Clear Voice Surveys is a more generalized survey and market research website, which has conducted some legal and medical industry research from time to time.
You can join it, but I'm not sure how much lawyer-related work you will find there.
Helpfull
Helpfull is not a juror-specific site. It is a rather general "online focus group" platform where companies/organizations can create surveys and panelists can participate in them. What sets them apart is their policy of only having US-based panelists in their focus groups.
But they have legal/paralegal surveys from time to time, and they are usually trying to understand their case through a mock jury, albeit in an indirect way.
What is a Mock Trial or Online Jury?
I assume you are accustomed to how court trials take part in the US. There's a panel of jury members that get to vote their decisions regarding the trial. Now, a lot of lawyers/law firms want to practise their case and make sure there is no loophole in their preparation.
So they hire a mock jury to go through the case with them. It can be online or in-person. It helps them get external opinions and feedback on the case, thus strengthening their position.
Some law firms hire upto 50 panel members for a single case! So there are lots of opportunities here, but they are very scattered. Most of the websites advise you to be patient as the cases you get depend on your location and availability a lot.
You will receive all the case related material– transcripts, documents and filings before your mock juror trial. Make sure you are well prepared and contribute to the mock trial. This also gives you the chance to get selected again.
What are the Requirements to be a Mock Juror?
There are some general requirements that you should fulfill before you apply to become a mock juror in any of the above websites. They are:
You should be a resident and legal citizen of the United States. As of now, this is the only country where this is practiced.
You must be over 18 years old with the ability to read and write, duh.
You must not be a convicted felon. 
You should not be a lawyer, paralegal, working in a law firm or be related to the legal profession in any direct way. This is kind of obvious.
You must be of a sound mind. Whatever the hell that means.
Generally, you must be a US Citizen not related to any legal profession without any past felony records. This requirement is common for all the different jury websites listed above.
How much can I earn with online arbitration/juror websites? And how will I get paid?
Your earnings depend on the availability of cases (in your area) and your location. People living in cities earn substantially more than people living in tier-2 areas. Plus, most of the in-person sessions take place in cities so you have more potential to earn more.
But most of the websites mention that the work is not consistent, so do not go into it with the expectation of a full-time income. With an average of 5$-20$ per case, I would assume you can earn around $100-$500 monthly from it, which is a paltry part-time income for US Residents.
Payments are done via Paypal, CashApp, or Wire Transfers. Wire Transfer seems to be the most common option for these platforms.
Where are the payment proofs?
These jobs are restricted to people in the US. Plus, it does not employ a huge enough workforce and pays via wire transfers. Hence you cannot find the payment proofs of a lot of these platforms.
I did find one of eJury (the best platform for mock trials) and have posted it alongside its description.
Some other work you can do in the Legal Industry
Mock trials are definitely a unique way to earn money, whilst getting accustomed to how things actually work in a court. But if you want other opportunities of online work in the legal industry, then you can try Legal Transcription Jobs or as a Court Researcher.
Legal Transcription Jobs
Legal Transcription Jobs can be done globally, but you need to have good knowledge of technical terms used in courts and among lawyers. Would help if you have watched some seasons of the "Suits" TV series.
Work-at-Home Court Researcher
This opportunity is only for US residents as well. Court Researchers are required to pull documents from various courts. This can be done online (for some states/countries), whereas it might require you to physically go to the court in some places. 
This article explains you all the nitty gritties and gives you a list of job opportunities for the same.
If none of the above jobs fancy you, then try out recording voice phrases for money or check out this list of websites that pay you for your opinion.
More Reading for you…