A lot of us like to make fun of mods (moderators) on Reddit and Discord, mocking them based on their stereotype of being the usual computer nerd who doesn't like loudmouths. 
However, moderators serve an important purpose in almost any social media website. They control the content that flows in a website/app, because certain forms of content are often inappropriate. This includes spams, scams, threats, hate speech, etc. 
They make the overall quality of the content we see on social media better. There are several platforms which hire moderators for improving customer experience (CX) of several business/websites. ModSquad is one of them.
What is ModSquad and how does it work?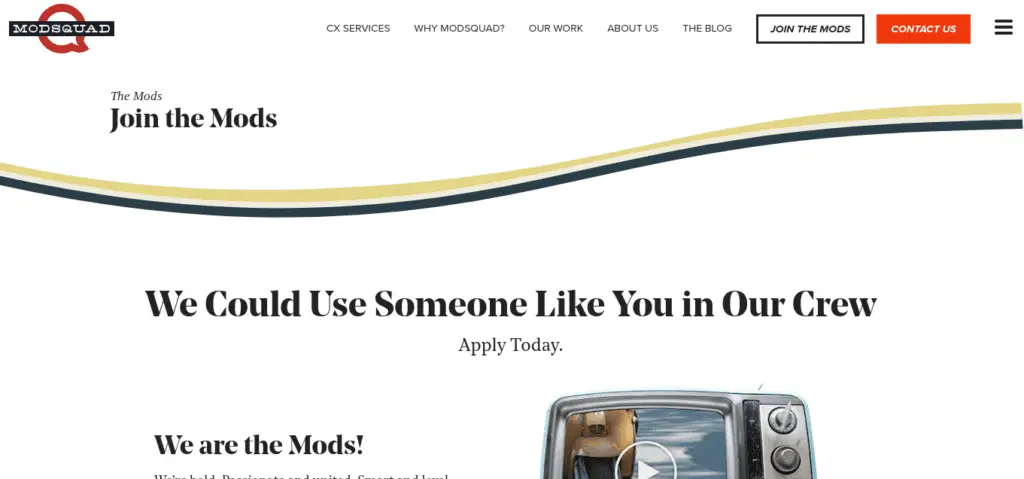 ModSquad is a moderating service that helps businesses moderate content on websites and social media, and also helps businesses take care of customer experience by providing customer support. Businesses often use call centers for handling customer requests and complaints. 
However, "mods" in ModSquad act as a replacement for these call centers and answer customer requests directly. Mods also moderate content on websites and social media based on selected standards and policies.
Signing up for ModSquad and filling your job/gig application:
Start off by applying on their job application page. You'd need to attach your resume/CV to your application. You would then need to enter your full name, email address, and phone number.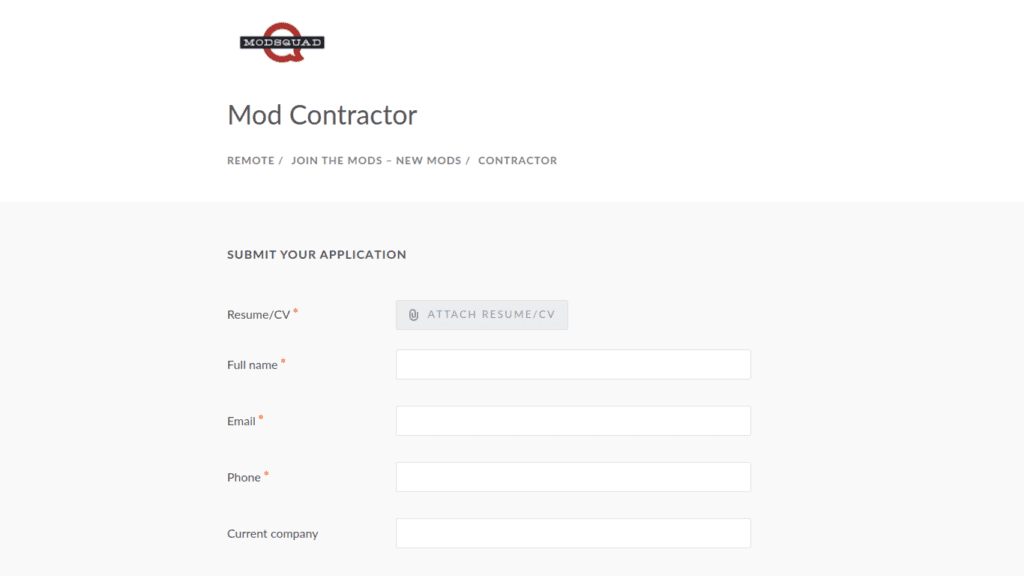 Next, you need to select your primary native language and other languages you're fluent in. You would need to select the country you're legally bound to pay taxes in (or your country of residence) and your city of residence. 
Americans would need to fill out the state too. You'd also be asked if you're 18 or older, whether you're legally authorized to work, and whether you'd need a sponsorship for an employment visa.
When you're done filling that information, you'd be asked about your operating system. You'd then be asked whether you are currently in a lead role for ModSquad. You would need to mention your project name if you are. If you aren't, just type "No" and move on.
After this, you'd need to use some writing skills. You'd need to write a crisp paragraph about how the job seems appealing to you, followed by a brief summary of your prior experience as Customer Support, and ending with you describing your experience with WFH (work-from-home).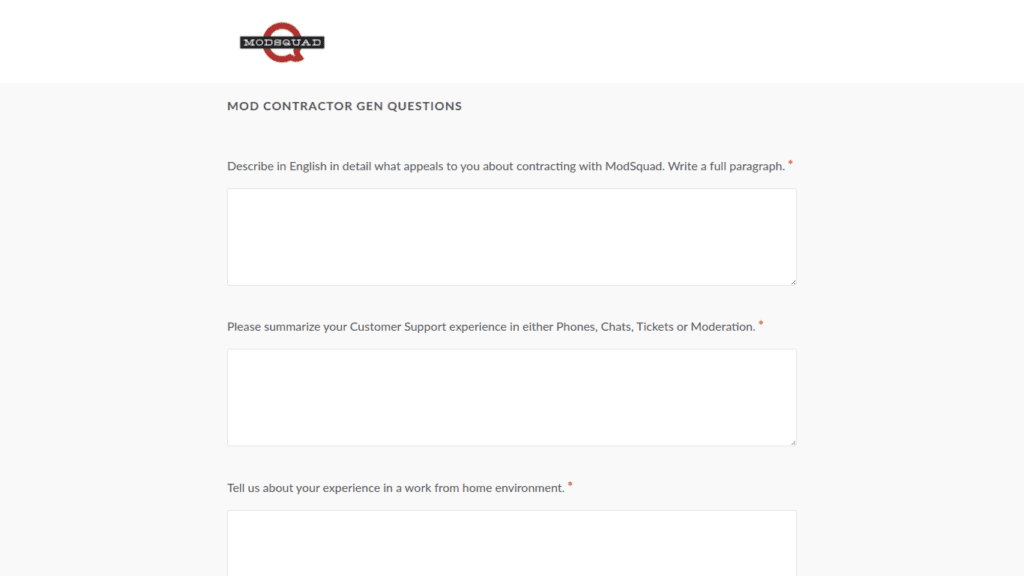 Then, you'd be asked about your English proficiency in speaking and writing, your ideal hourly pay rate, and the source from which you came to know about the opportunity.
Finally, prove that you're a human, and submit your application! It usually takes around a week for your application to be reviewed and processed. 
If your application gets accepted, you would have to appear for an interview. The interview isn't hard and is extremely casual with normal questions like your motivation to work for the company, your experience, etc.
Optional information
There are several fields in the application form which are optional, but you should fill them for a better-looking application and a slightly higher chance of getting accepted.
Your current company
If you're already working for a company as a customer support agent, you can fill this field with the name of your company.
LinkedIn
LinkedIn profiles always help in jobs. They give an insight into your job experience, connections, skills and history. This can prove to be beneficial for you as a particular skill or experience might impress the company.
Additional Information
You can enter your bio-data or anything else you would like to share in this field. You can put up a cover letter too. Also mention if you have worked as a moderator on any of the social media platforms.
U.S. Equal Employment Opportunity Information
You can provide details like your gender, race and veteran status here.
Things to keep in mind before Applying at ModSquad:
You need to be 18 years old or above to apply, because legal restrictions worldwide prevent minors from working. You'd also need to legally qualify as someone who is allowed to work in your country of residence (due to different labor laws across the world). 
This job is not for those suffering from social anxiety. You might need to attend phone calls for customer support, and reply professionally. Make sure you have those skills.
This job requires a high level of English proficiency, both in speaking and writing.
You'd need a desktop computer or a laptop to do the job. Your laptop/desktop must be actively receiving security updates. Only those computers with Windows 8.1 and above or macOS High Sierra and above are supported, at the time of writing. Chromebooks and tablets won't work.
You'd need a reliable internet connection and a quiet place to do the work. Customers contact support for solving their problems, not for listening to construction machines and crying children.
How much do I get paid for working at ModSquad?
The pay is not the same across the world. People from some countries get paid more than others. People from Europe and North America tend to get paid around $3/hr more than those in Latin America. However, in any case, you'd need to work a lot as a moderator in order to earn a good income.
Payments are made via PayPal. You would need to link your PayPal account in order to be paid. ModSquad takes two types of mods: independent contractors and W-2 employees. 
W-2 employees work full time in 9-hour shifts and get a small lunch break. Their pay also tends to be higher. 
Independent contractors can choose to work according to their convenience. Contractors get paid much lower than W-2 employees and don't get benefits. 
The pay rate is fixed by negotiations from both parties, but employees usually get around $10/hr on average, while contractors may get anywhere between $2 to $8 per hour. 
More Reading for you…