ICUC social is one site that offers social media management and networking jobs. It has been in existence since 2002 before being moved to a new web hosting service that helped gain its prominence. 
ICUC social is one of the platforms that a freelancer can enjoy working at. The site is a social media content moderation/engagement agency that handles businesses' social media accounts.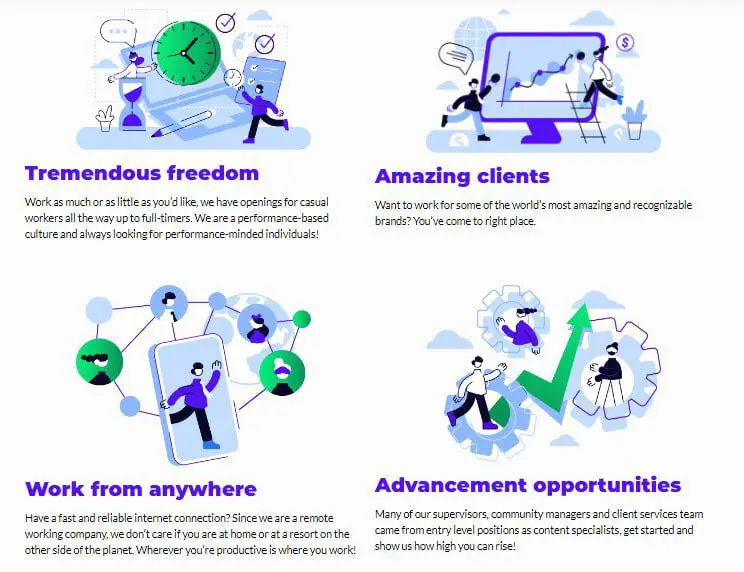 Large businesses are the major beneficiary of this online company. It shows you the legibility of the website. Working for them, you are responsible for creating social media conversations, managing existing social media accounts, and engaging high-quality images and HD videos for their social media accounts. ICUC social is one of the biggest online communities on the globe. 
What is Social Media/Community Moderation? 
Having a safe space for online platforms is enjoyable. That's the founding principle of community moderation (Admin/Mod). Community moderation entails managing discussions, social media communities, and comments from members and users on various social media platforms. 
As a community manager, there are three elements that you have to be keen on: 
First, curate any user-generated content from the online community. This ensures alignment and quality to an organization's engagement rules. 
Secondly, you have to ensure the ambiance ensures openness with appropriate conversations. 
Finally, you have to participate in an online environment that has established its rules of engagement. 
Becoming an online community manager, you must know how to balance maintaining order, controlling conversations, and contributing to comments to make them fresh. 
There are certain elements that, as a community manager, you should ensure. The do's include
Review your community guidelines after a certain period. 
Ensure you know how to deal with a troll. Social media is a platform that has a variety of trolls since most people are "keyboard warriors." Thus, you should be able to be calm while handling strangers on the internet. 
You should moderate posts that hinder community engagement. 
Finally, portray your personality. People will have more confidence in you when you show your personality. 
Well, some of the don'ts you should be keen on include:
Immediately answering every question. Answering every question makes community members passive and inactive. 
Avoid ignoring feedback. Feedback depends on the trust and builds client loyalty. 
Also, a debate is good. Allow members to debate and entertain the conversations amicably. 
Requirements to work at ICUC
The company has strict goals due to the high-profile clients they have set to help. As such, it hires individuals with the following skills: –
Your English proficiency should be top-notch. 
You must be very proficient with google hangouts for easy communication.
You have to sign up for Twitter and Facebook accounts (or other social media platforms) that you will be using regularly. 
You must be well-versed with social media tools, user-generated content, and online blogs and forums. 
Must be outgoing. You should be able to adapt and read the current trends easily. 
Excellent communication skills
You must be passionate about the overwhelming social networking and collaboration.
Good decision-making and problem-solving skills. 
Currently, they have job boards that require one to work as a moderator and can solve problems. A community manager proficient in more than one language has an advantage in recruiting. The main areas of fluency are in English, but you must know an additional or two other languages. 
The other languages they hire include Dutch, German, Portuguese, Polish, Spanish, Italian, Chinese, Arabic, and French. However, conversing in languages other than those mentioned is better. 
So, what does it take to work as an ICUC social worker?
Signing Up at ICUC
Visit their website and maneuver to the job board. There you will find all listed positions available for the company. 
Open the job of your interest by clicking on it. There is a set of instructions that you will follow and will lead you to the application form. 
Fill in the essentials, your name, email, and phone number. Please attach your resume and have a well-written cover letter presented to them. Ensure to fill in anything mandatory. 
Submit your application and wait for feedback. They will inform you on how long your application will be reviewed. Once picked, you are invited to an interview. 
The interview process is online since they require individuals from various countries. They use google hangout/Google Meet for video and audio. 
After recruiting, they require you to complete their moderation gateway course and have a moderation foundation training certificate.
How much can I earn working as a community moderator for ICUC?
At ICUC social, you work directly with the company. Salary is based on the role you have been hired for. Payments are discussed during the interview. 
Mainly, the sites pay depending on the hours you agree to during the interview. Mostly their rates range from $12-$32/hour.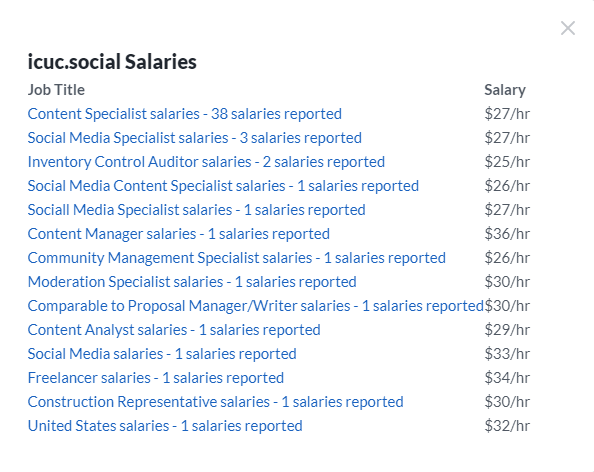 ICUC social is one of the legitimate companies you can work for. However, it would help if you were cautious about their terms since there are bad reviews from various sites. 
ICUC social offers a 24/7 service delivery to their customers. Thus, you can choose to work during the night, day, or late-night shift. 
If you are an avid social media user and love interacting with people online, then you can give this a shot. You can also try 99$ social if you want to work as a social media manager.
More Reading for you…