Last Updated on September 12, 2023
Triaba is so simple to use that it's worth enrolling as a secondary site. It offers a good number of surveys, pays handsomely for your time, and is available in many countries in the local language.
Triaba is a survey panel with members from all around the world who are making money online by answering surveys.
The main question here is: Is it a legitimate survey panel worth your time, or a waste of time?
I've been a member of the panel for a long time and know exactly how it works and how much money you can make.
What Exactly Is Triaba and How does it work?
Triaba.com is a global paid survey site where the only option to gain money is to complete paid surveys. It features a good number of paid surveys, and the number of surveys possible has grown since I initially registered. 
You may receive multiple survey invites per day on some days and only a handful per week. The number of surveys received will vary depending on the country and the profile.
The site is simple to navigate and there are no distracting elements on the page, making it simple to get started.
You won't even need to visit the site very often because they'll send an email whenever a survey becomes available. The survey is completed by clicking the link in the email.
Typically, no one qualifies for all the surveys they are invited to on most survey sites. However, Triaba's qualification rate is higher than many other sites, which is a huge plus in my opinion.
How do I get paid by Triaba?
You can earn money in your local currency (for US members) or via PayPal when the payout threshold has been reached. However, in most nations, there are alternative payment options if PayPal is not available.
I can't include all of the alternatives because the actual payout threshold and payout procedures differ per nation. But I can give some examples of payment methods that Triaba offers.
In addition to PayPal (as previously noted), Amazon gift cards are available in the United States, Germany, and the United Kingdom. You can also select to get paid in GCodes, which are virtual gift codes, in the Philippines, UAE, Australia, South Africa, Egypt, India, and many other countries.
Triaba has recently begun offering a Virtual Visa Debit card as a prize in a few regions. These are only a few instances of prizes; regardless of where you live, there are different payout alternatives. However, before joining, I recommend you visit your country's website to learn more about what it has to offer.
As soon as a survey is completed, the reward will be shown in your Triaba account.
As previously stated, the amount of money required before receiving a payout is determined by your location.
But, in general, it will be between $5 and $15, which is a rather low threshold for a survey site and one of Triaba's advantages.
How Can I Become a Member of Triaba?
It's simple to join Triaba and start earning. Simply go to Triaba and click the JOIN TODAY button. There are different sites for different countries, so make sure you choose the one relevant to you.
You can change your country from the option on the upper right menu.
Then a signup page would appear to input your details as shown below:
Validate your email address, and voilà… we are all set to go.
In order to gain access to most surveys, make sure you complete the profile questions as quickly as possible.
How much money can I earn with Triaba?
Triaba has a good amount of surveys, but how many you get depends on your location, your interests, your age, and some other factors.
In comparison to many other survey sites, Triaba pays fairly substantially for the surveys completed. Before a survey begins, you will always know how much the payout will be. It will be specified in the email invitation and the time required to complete the survey will be stated as well.
Taking surveys might be a good method to supplement your income but keep in mind that survey sites will not make you rich or provide a full-time job.
Also, keep in mind that if the funds in the account are there for a long time without use, they will become inactive and disappear from the account. Your account will get deleted after two years of inactivity. If you have been inactive for an extended amount of time, just send them an email and they will respond.
Triaba Is Accessible in Which Countries?
Triaba is a global survey panel available in the native languages of various nations.
It is available in more than 90 countries. It has grown significantly over the last year. What's even better is that you can now have surveys in places where finding legitimate panels can be tough.
Triaba Panel Payment Proof
Triaba is a legitimate survey site. I know this from personal experience, having been paid multiple times. Here's a payment proof from the Triaba panel: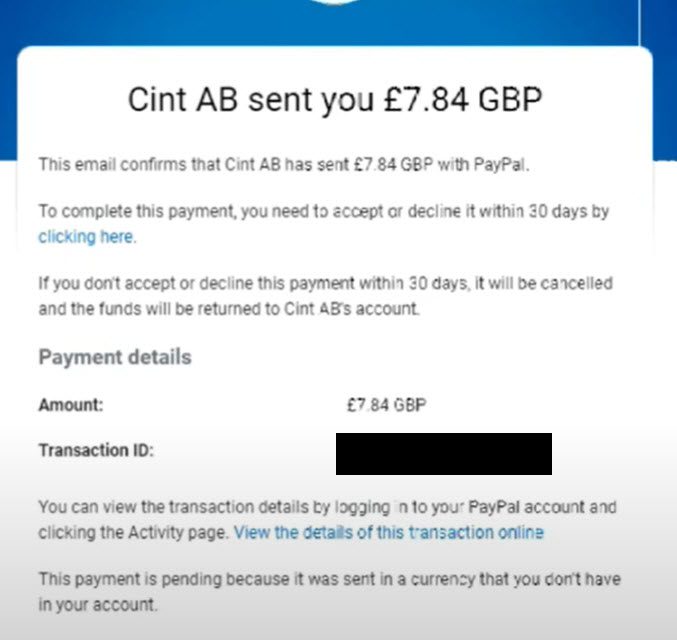 Triaba is simple to use and won't take up much of your time, so it could be a wonderful method to supplement your income by sharing your thoughts. But recently there isn't much work available on the website, and I'm not entirely sure whether I should recommend this website in 2023.
There are much better and simpler survey sites available (like Surveytime, PrizeRebel, ySense, etc) that are a much better deal for your time. 
Maybe try it out for yourself, and decide. Do comment and let me know if you are able to earn enough with it nowadays.
More Reading for you…