What is SuperPay and How does it work?
Superpay.me is a legit survey site available since 2012. It offers several ways to earn. As such, it has a better potential for big earnings. 
At superpay.me, there are various daily tasks and opportunities for paid online surveys. The site collects surveys from different sources and puts them on their page. It is an easier way of accessing surveys from different sources on one single platform.
This is something I haven't seen on any other such platform. They have partnered with dozens of Survey networks and offer walls, and give you all this under one platform. So they have the maximum number of offers and surveys you can do all under one platform
However, it can be difficult for one to maneuver through the site at first and find the best surveys to handle. But with the recent updates in its design, the site is becoming easy to maneuver and find tasks. 
Also, the surveys available require certain qualifications. It would be best if you had the patience to study and qualify for the various standards required for each survey. 
Compared to other sites, superpay.me also offers a more competitive pay. 
What makes them even more unique are their promotions. They are worth keeping an eye on since they offer 15-50% more pay for the same surveys.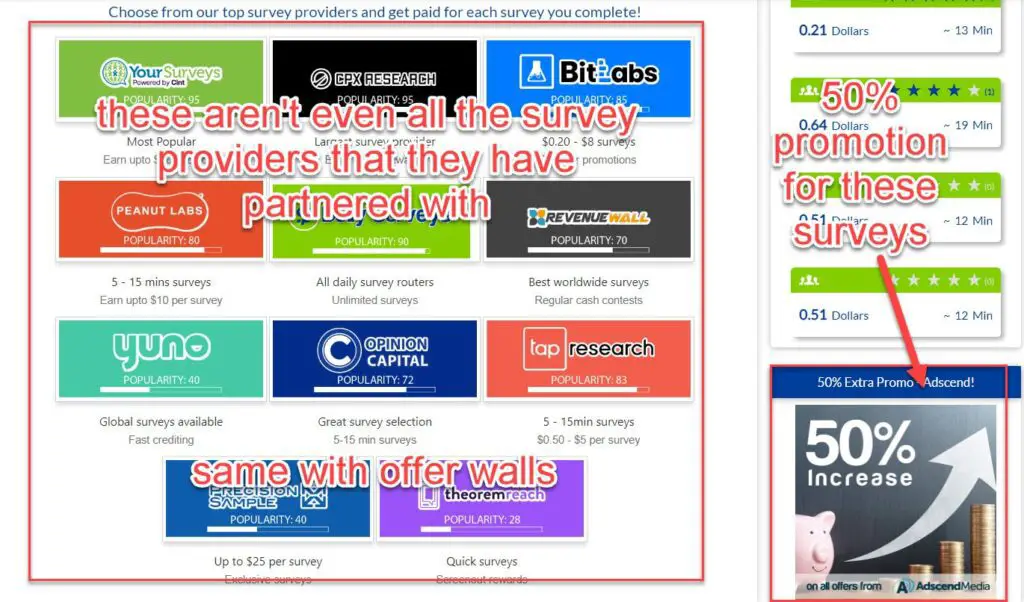 Once you join, you will see that the site has a very transparent kind of feel. They show how many users they have, the amount they have earned, etc. There's even a live ticker updating as soon as someone earns via any offer or survey.
What more can I do to earn on SuperPay (apart from Surveys)?
There are half a dozen more ways to earn in SuperPay apart from their surveys. And they have the most 
 SuperPay also has paid offers (like ySense and PrizeRebel). Paid offers entail signing up for various websites, clicking ads, watching videos, and downloading applications. 
Superpay.me has many paid offers that sometimes have high rewards. The site also allows multiple offer walls, unlike other websites. They have the maximum number of offers available out of any other survey site I have witnessed so far.
Further, it regularly updates the offer walls. 
Some offer walls have extra paid surveys. It is particularly helpful when you are unable to find enough paid surveys in that survey section. 
Moreover, every quarter of a year, SuperPay offers a cash contest. Usually, the prize is $1000. 
Participating in this contest requires one to indulge regularly in surveys and offers. Within the quarter, 20 individuals earning the most are included in the contest. 
The prices start at $350 for number one, $250 for number, and $100 for third place. The list continues to the 20th person who earns $10. 
This is good for a reward for making the top 20. All you need to do is stay active on the platform. The contest entry is also free. 
You can also earn at superpay.me by posting payment proofs. Every proof to a forum of your choice earns you $1. You have to share the receipt showing superpay.me paid you. 
Joining superpay.me WhatsApp group earns you $0.25. In the group, you will be able to get promotional messages, promo codes, exclusive promotions, and contests. 
However, the group is limited to people around Canada, U.S, U.K, and Australia. The option is available when you navigate to paid surveys, then worldwide offers. The option is unavailable if you are not from the listed countries. 
Inviting friends can also earn you an income from superpay.me. You get 25% of what your referrals earn. If your referral earns $100, you will get $25. 
Finally, you get a bonus from promo codes. Codes are usually published on Facebook and Twitter, and the WhatsApp group for individuals able to join. 
The bonus is usually $0.20. not a huge bonus, but you can earn it in less than 10 seconds. Sign up to the site and get your $0.20 bonus too. So how is the signup process?
How to sign up and start working at SuperPay?
The process is easy and fast:
Go to their signup page.
 Fill in your name and a preferred username, input and confirm your password and email. 
Then, add your address, city, zip, and country. 
Finally, select your preferred payment method and agree to their terms and conditions and privacy policy. 
You can also tick that box if you wish to get promotional offers, promo codes, notifications, and newsletters through your mail.  
How much can I earn from superpay.me? How will I get paid?
Superpay.me pays in dollars for surveys, offers, and other tasks. However, some surveys are paid in points that can later be exchanged for cash. One point is equivalent to 1 cent. 
The platform offers several ways that you can receive your funds. They include Amazon gift cards, PayPal, bitcoin, Wise, or Skrill. Some payment methods, such as Amazon, are limited to specific countries. 
The lowest payment threshold is $1 for Amazon gift cards, $30 for bitcoin, $20 for bank transfer or wise, and $5 for Skrill. 
For PayPal and Skrill, superpay.me charges extra administration fees of 2%, while it charges 5% for Bitcoin and 2.5% for wise. 
Payments are released 8 hours after the initial request. How much do I get to earn, BTW?
At superpay.me, you will need to spend a lot of time on the website to earn more. They have the maximum number of surveys/offers available out of any other website, so you can earn a lot. 
But as it is with surveys, you will need to spend a humongous amount of time doing them. I recommend doing offers as they are usually much faster.
Generally, the rewards range from $0.5 to $2 for surveys, and can be bigger during promotions. Offers can range from 1$ to 1000$ depending on what you are required to do.
Payment Proofs from SuperPay.Me: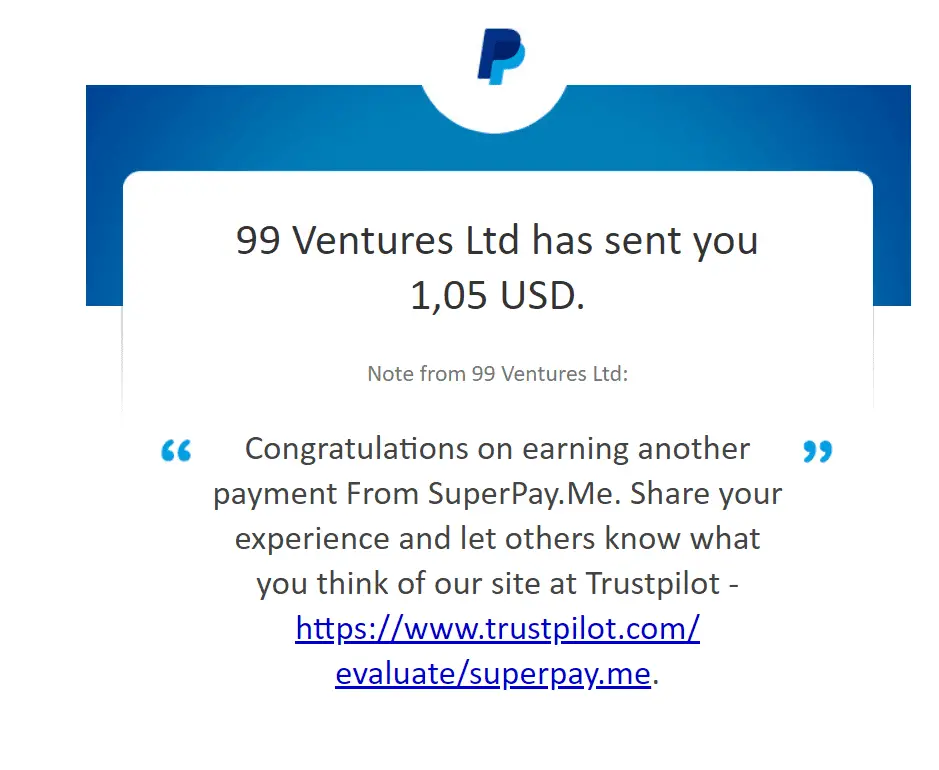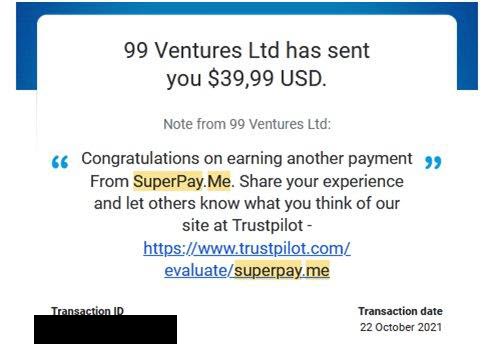 The fact that SuperPay pays you to post their payment proof has worked well. The Internet forums are full of their payment proofs, which further gives confidence in such sites.
I have personally received two payment proofs from them, one for completing a survey and the other one for an offer. I took a trial of a VPN service (which I wanted anyways) and got a (kind-of) cashback from SuperPay. 
So basically, I got a VPN for free!
More Reading for you…