If you've been hunting for a new job recently, you may have found yourself overwhelmed with the sheer number of opportunities out there. It can often take weeks or even months to find your dream job.
Even waiting around for human resources to get back in touch with you can feel like an eternity when you're one of many applicants all vying for the same position. In our hyper-connected world, however, that's not necessarily true anymore.
While there are certainly still lots of jobs that require relocation and long commutes into an office every day, an increasing amount of companies are launching remote work operations in order to expand their talent pool and be more competitive when searching for potential employees.
One of the best ways to find your dream job is to use Remote Work Hub. The website lists hundreds of remote-friendly jobs from companies all over the world, so you can apply for positions that fit your skills and interests.
With their advanced search filters, you can easily find jobs that match your criteria and apply directly online.
Plus, the job board gets updated daily, so you'll always have the latest listings at your fingertips.
Step 1: Know What You Want and Create An Account
Before you start browsing for jobs, you should take some time and ask yourself what you want exactly.
Do you want full-time or part-time remote work?
Do you need health benefits?
Would paid training be beneficial?
How flexible would your schedule need to be?
The more specific your needs are, the easier time you'll have searching for companies that offer the exact type of work you're looking for. And once you've gained clarity on what kind of job you want, go to Remote Work Hub to create an account and log in.
To do this:
1. Click on the user icon on the upper right corner of the website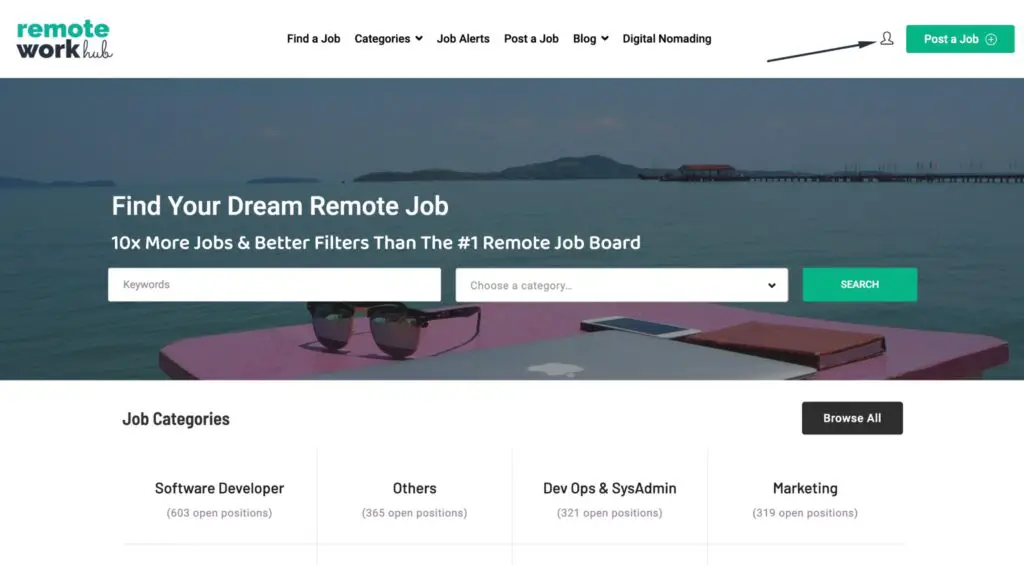 2. A pop-up will appear. You can either log in with an existing account or click Don't have an account? and input your details.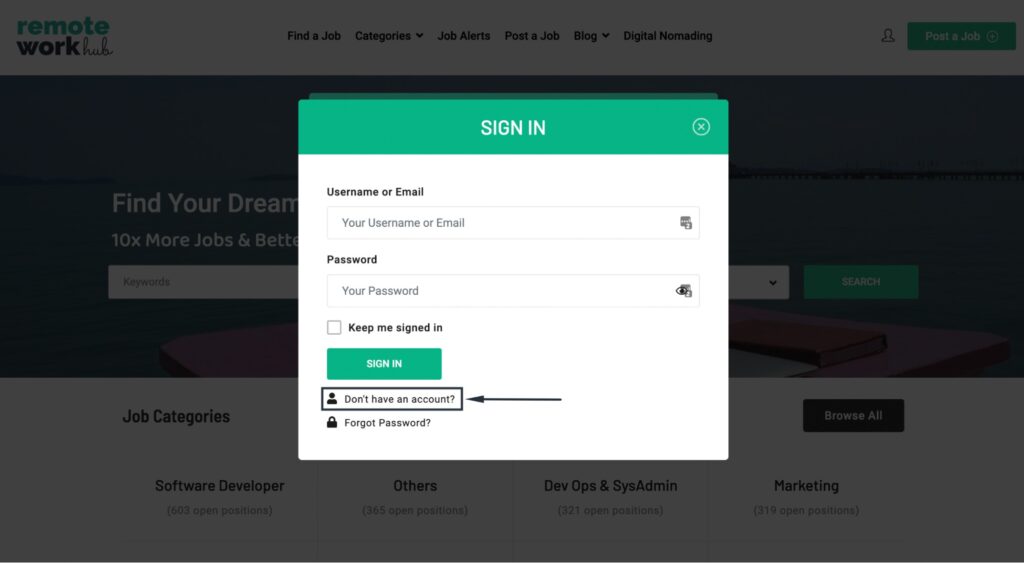 3. Once you've signed up or logged in, you'll be taken to your dashboard which should look like this: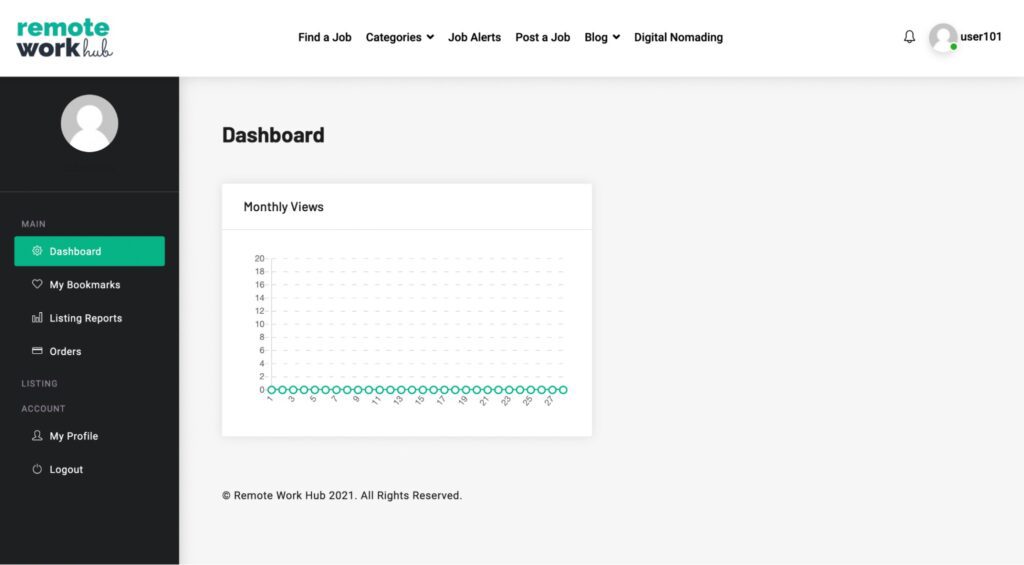 Step 2: Identify Your Skills and Experience
Remote Work Hub has some great resources on its blog to help you determine just what types of remote jobs you might be best equipped for.
Feel free to read their articles about career advice, productivity, management, job search, skills, and everything else about the remote work lifestyle.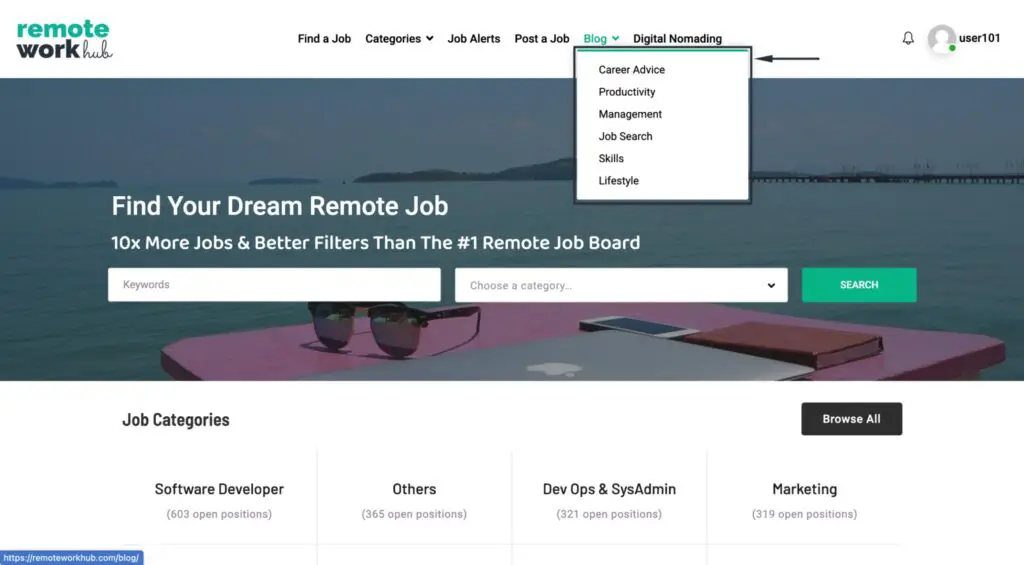 You can also check out their job categories. Just go back to the home page and start browsing. This might help you identify some potential areas in which you could excel.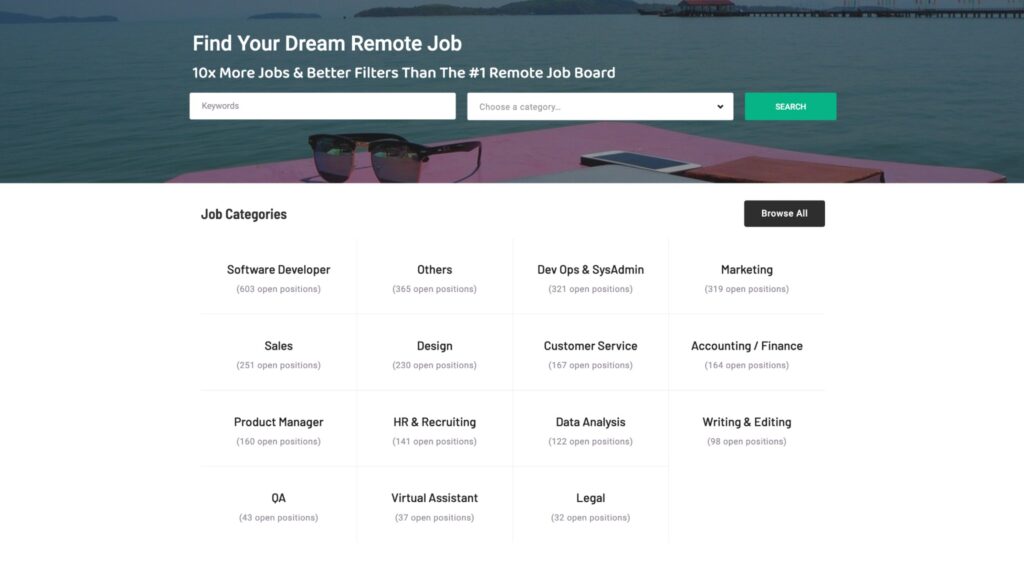 Remote Work Hub has a list of 15 job categories, namely:
Accounting/Finance
Customer Service
Data Analysis
Design
Dev Ops & SysAdmin
HR & Recruiting
Legal
Marketing
Product Manager
QA
Sales
Software Developer
Virtual Assistant
Writing & Editing
Step 3: Find Companies That Are a Good Fit
Once you've identified the types of jobs that look interesting to you, it's time to start looking for companies that offer them.
While there are literally thousands of companies with remote work opportunities available online, not everyone might be the right choice for your talents or experience level.
So, find out what kind of companies you want to work for. Do you want to work at large companies or small startups? Are you looking for companies that offer benefits? Do you want to work full-time or part-time?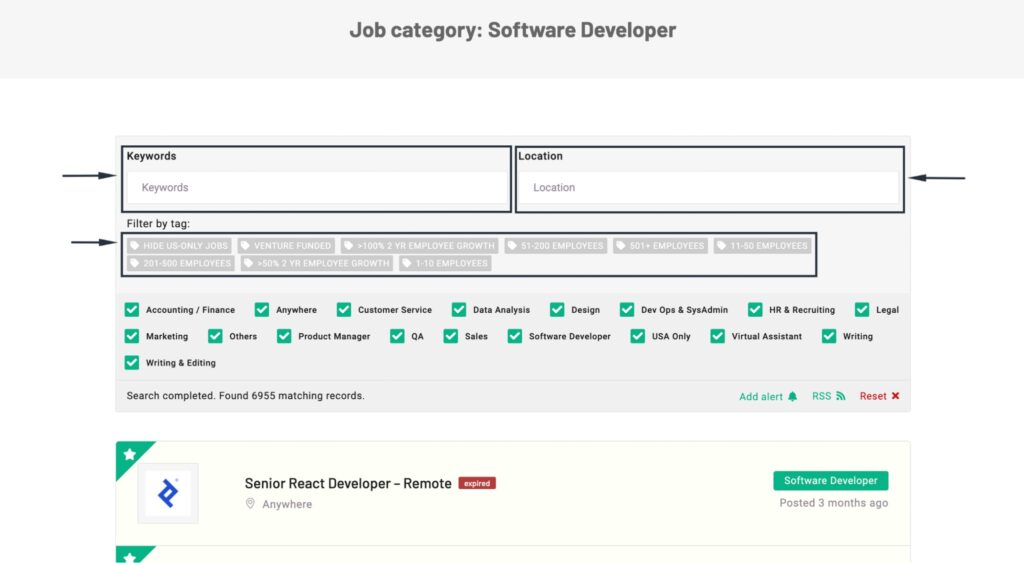 If you click on any job category at Remote Work Hub, you'll be able to filter the type of companies you want to work for in that category.
You can filter by location. You can type in anything in the "Keyword" search bar if you have any particular preference. And you can filter by tag:
If you don't live in the US, you can remove US-only jobs from the list
You can also filter by the number of employees
And you can also filter to just show venture-funded companies
Step 4: Get Noticed Online
Once you've found the right company for you, it's time to get noticed!
When you click on a job post in Remote Work Hub, you'll see more details about the open position and an "Apply for Job" button on the right side of the page.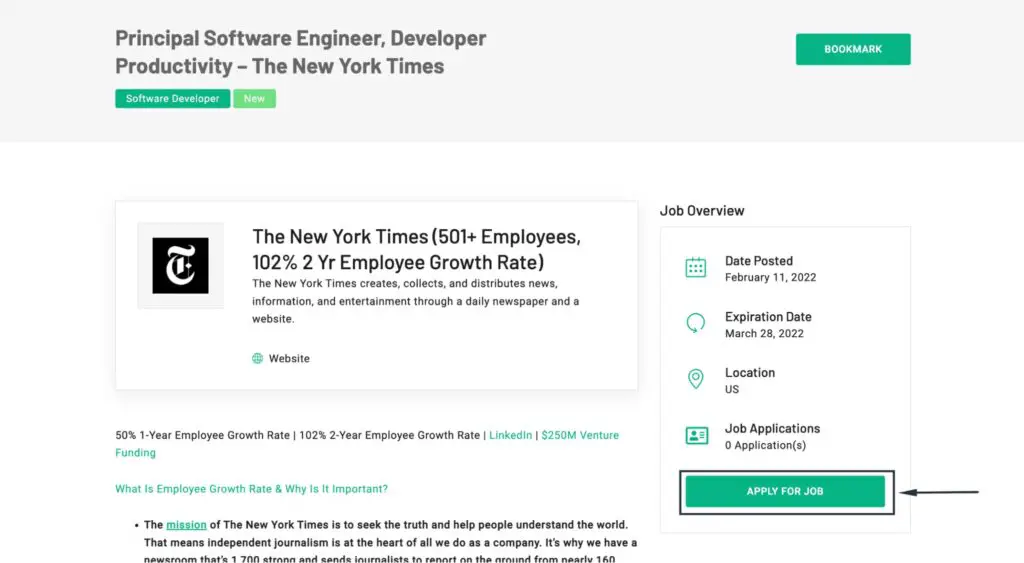 Click on that button to open a pop-up and view the company's official page, so you could directly apply from their website.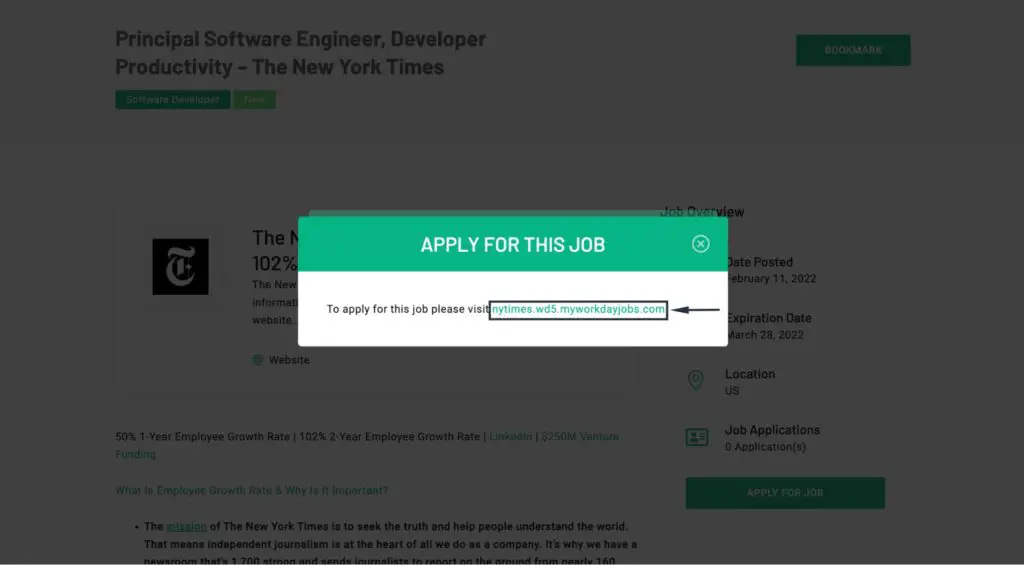 Familiarize yourself with every single detail of the job post, follow their instructions, and send in your application. If you need help with putting together a resume, here are some tips on how to make your resume work for you.
Once you've identified some companies that might be willing to work with your needs, send them an email or call them up. Many times it won't take much convincing before they're ready to schedule a phone interview.
Step 5: Prepare For Your Online Interviews
If you make it past the initial application phase, chances are good you'll have an online interview or two coming up soon.
While this might seem daunting, it's important to remember that an online interview is just like a regular one in many respects.
To prepare for the call, make sure you're ready in a quiet place where you won't be interrupted. Do a quick search online to see if you can find any information about the interviewer.
If you know what they look like, it'll be much easier for you to establish eye contact during the interview.
Dress as professionally as possible and leave your phone in another room so that you'll be focused on the call at hand.
Once everything is ready, simply log into whatever recording or video chat service you've been given access to and wait for your interviewer to join.
Be sure not to use up all of your allotted time before asking any questions of your own!
Step 6: Follow Up With Your Interviewers
The interview might go well or it may not, but either way, it's important that you follow up with whoever interviewed you after the fact.
Many employers will appreciate the effort you've put into finding out more about their company and your willingness to pursue them further.
You may want to send a quick "thank you" email to whoever interviewed you thanking them for their time.
You can also ask any questions that weren't answered during the interview or even offer up some additional information on why they should hire you!
If it's been a few days since your interview and you haven't heard any news, it's okay to give them a call as well to see what the status of your application is.
Once again, if no one responds, then take that as a sign that it wasn't meant to be. The point of this entire process is not just to get hired by anyone but instead to find a company that's the right fit for you.
Good luck finding your dream job and don't forget to share this article with anyone who might be looking as well!
More Reading for you…