With an ever-globalizing world, learning new languages has become an important skill. Being multilingual opens up new job opportunities, helps understanding cultures and also gives an insight into the deeper workings of human linguistics. 
As a result, more and more people now want to learn new languages, especially English. I had earlier written about several platforms that pay you to teach English online. But iTalki is a bit different. It pays you to teach any of the 39 languages it supports. This is great for people from all around the world.
What is iTalki and how does it work?
iTalki is a language learning platform where freelance tutors from all across the world proficient in different languages offer courses with a fee/rate decided by themselves and learners get to choose the course they would like to enroll in. It is, in many ways, a freelance teaching platform.
There is a whole list of languages that you can teach, with 39 languages in total. This is the best part as most of the popular language tutoring platforms only stick to teaching English.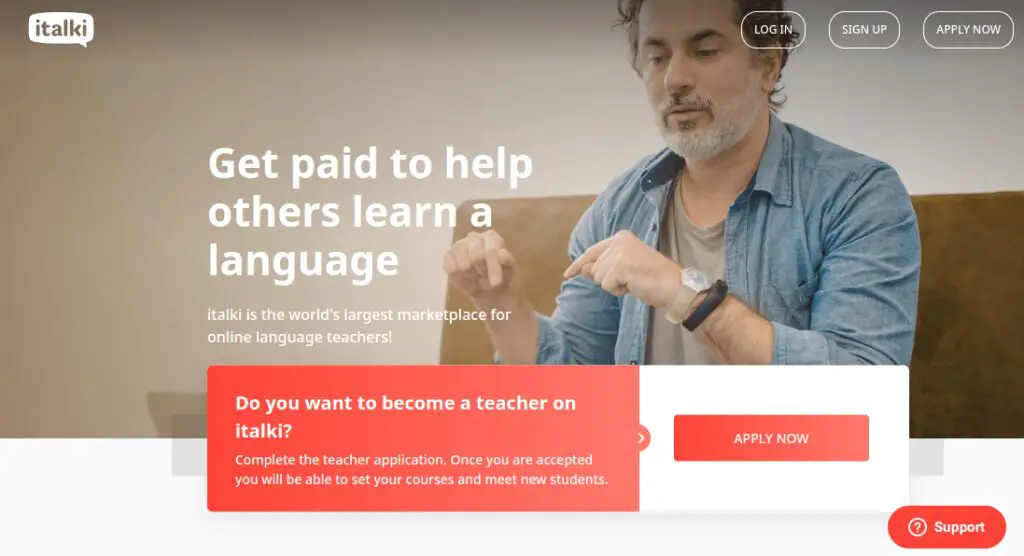 How to start teaching with iTalki?
Before getting started, there are a few things you'd need to know. If you want to teach a particular language, you need to check if the language is open for application. You can check out the list here. Note that the list gets updated every week on Monday, according to the time zone UTC +8. There are two types of teachers on the platform: professional teachers and community tutors.
Should I join as a Professional Teacher or Community Teacher?
To join the platform as a professional teacher, you'd need to have a degree or any other form of professional certification or prior teaching experience in an established language teaching institution as a professional foreign language teacher. You can find more details about the credentials/certifications required here.
You would also need to scan your documents and verify your credentials before you're able to join. 
To join the platform as a community tutor, you don't need such credentials and can teach informally.
Then you need to provide a brief video introduction (around 1-3 minutes long) where you would describe your skills, including speaking in all the languages you would like to teach. This would help students get a better idea of your teaching style and skills before they pay to learn a language from you. 
Also, note that iTalki has both an app and a website, however, you can access the application page on the desktop version of the website. However, you can use the app as a tutor too once you have applied and have been accepted.
Signing up as a Teacher on iTalki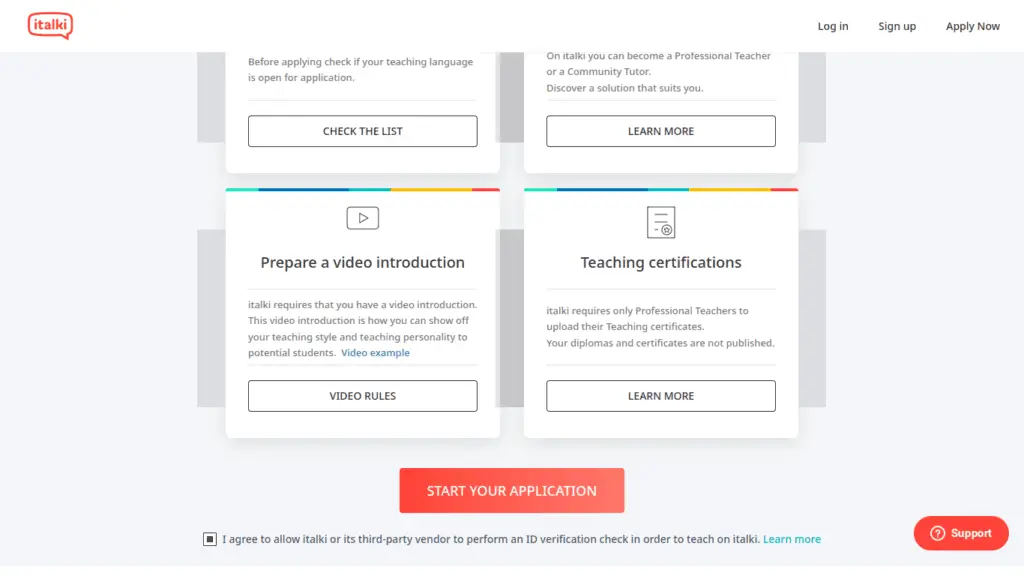 After you have your certificates and introduction video in place, we can begin with your application.
Go to the iTalki Teacher Application Page. You'd be given all the necessary instructions on this page, grouped in four cards. Make sure you read them carefully. 
After you're done reading, scroll to the bottom, check the box for "I agree to allow italki or its third-party vendor to perform an ID verification check in order to teach on italki" and click on the "start your application" button.
You'd be prompted to create an account on iTalki. You can sign up using your Facebook account, Google account, Apple ID, VK or WeChat account. In any case, you'd need to set a password for your iTalki account.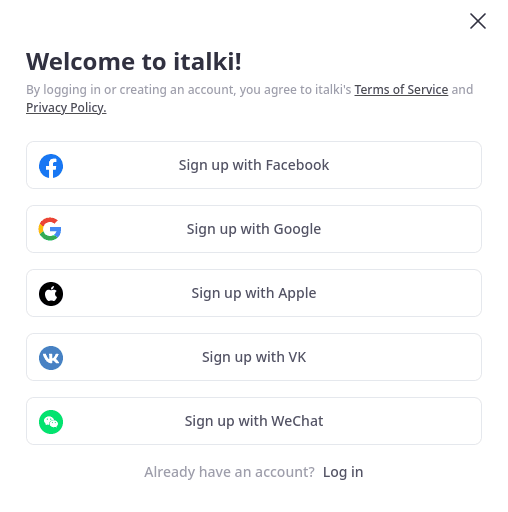 Then, you would be asked about the language you want to teach, your native language and the country you are located in. After continuing, the application process starts, which consists of five steps. 
The first step asks you to choose whether you'd like to be a professional teacher or a community tutor. The second step asks you for your personal information. This includes your Display name (the name with which you'd like to be known in the platform), preferred instant messaging/chatting platform for students to reach you in case of queries, your country and city of origin, your country and city of residence, your full legal name (as per your government-issued national ID), your birthdate, gender, street address, your language skills and your photo. Phew, that's quite a lot of info.
In step 3, you'd be given a list of languages that you claimed a native or above C2 level proficiency in. You would have to select the language(s) you'd like to teach, out of those options only. iTalki only accepts teachers who are native speakers of the language or have above C2 level proficiency in the language they would like to teach. You're also required to give a video and text introduction. 
Finally, you have to agree to the terms and conditions by typing your full name, and submit the application. They take upto 10 days to process your application. If approved, you're a teacher!
Do's and Don'ts for a teacher in iTalki
There are a few things you would want to take care of while teaching on iTalki:
Only teach languages that you, personally, are familiar with and fluent in. Don't teach a language that you barely know or can't converse confidently in.
When you withdraw money, you might have to pay a withdrawal fee depending on the service you use and your country. iTalki doesn't charge you anything, however, your payment provider might.
Properly plan your lessons and schedule ahead of time. You can cancel or reschedule a lesson only if you have more than 24 hours before your class starts according to the schedule. You can't cancel or reschedule a class that's within 24 hours or less.
Teachers and students get a chance to cancel/reschedule a class only once, and a class can be canceled or rescheduled only if both parties (teacher and student) agree to cancel/reschedule the class.
If you miss/skip a lesson that was scheduled and planned, it will negatively affect your attendance record and will be reported to the system. For the first report, you would be sent a notice and your profile would be hidden unless you respond to the notice.
In the second report, your profile would be hidden for 7 days. The third report gets your wallet frozen and your profile hidden for 30 days. For the fourth report, your profile would be deactivated and your wallet frozen, essentially expelling you from the platform. 
So make sure you provide value to the student with your lessons, and be disciplined about your job. You do get to work from home, but you need the sincerity of a regular desk job to do it.
How much can I earn and how do I get paid?
You're paid based on the number of hours you teach. You are free to put your own pricing rate per hour, however, there's a golden rule in freelancing: don't undersell or oversell yourself. Charging $10-12 per hour usually works for a lot of users. Students are happy to pay such rates for good quality language teaching. 
People usually earn around $2000-$3000 per month. You can choose to do this part-time or even as a full time job and it pays well. Payments are made via Paypal and Payoneer. The minimum threshold for withdrawal is $30.
iTalki also has an affiliate program which awards you for promoting iTalki. Whenever a student uses your referral link and buys a course/courses and the total amount spent reaches $20, you are awarded with at least $10 of commission.
For every new student whose purchases reach $20 USD in italki Credits that was registered from your affiliate link, you'll earn at least $10 USD commission. So that can give a slight boost to your earnings if you do it right.
iTalki Payment Proof
Here is a payment proof from iTalki. It shows the withdrawal made on the platform using Paypal.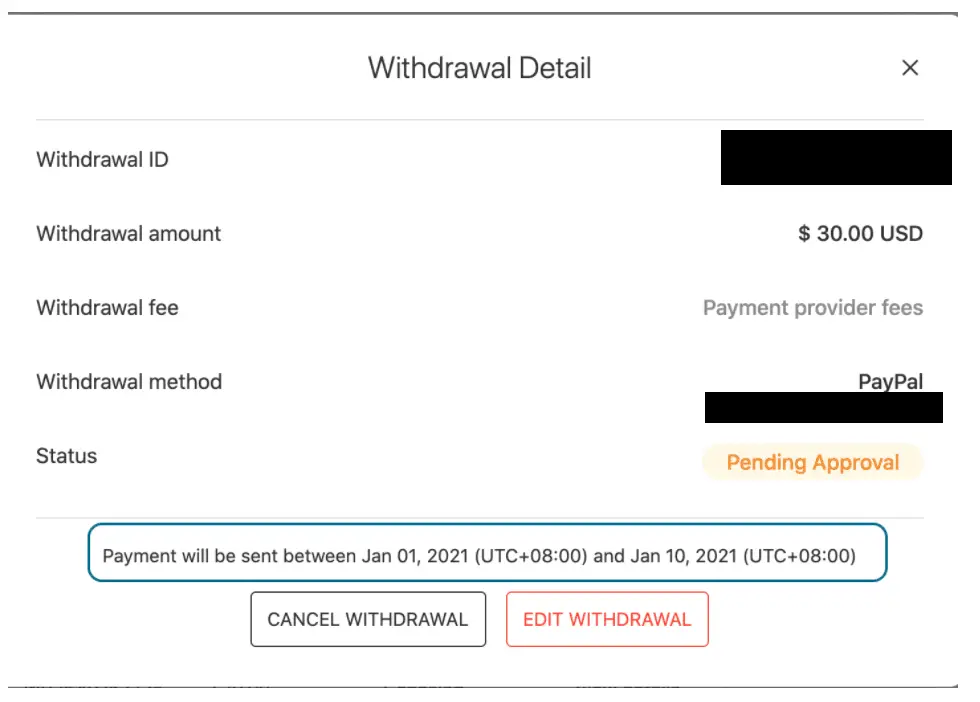 So iTalki is a great way to earn money teaching your language. There are lots of platforms that pay you to teach English (like Cambly) but none that support such a wide variety of languages. Give it a shot if linguistics is your calling.
More Reading for you…