With the vast number of products and services around us, it often gets difficult for consumers to make a decision about purchasing any particular product or service. Softwares, websites and apps are no different. 
Consumers often find it difficult to make a decision when choosing between softwares and apps to fit their needs. In such cases, reading reviews becomes a lifesaver. Bad reviews often detract consumers from a particular product, and good reviews attract them. 
A lot of sites, therefore, work on maintaining reviews for consumers to read before they purchase/download an app or software. G2 is one of them.
What is G2? Why does it pay for reviews?
G2 is a platform for people to post reviews on apps and other software for other consumers to read. It pays you to test and write honest reviews on different softwares, web platforms, apps, etc. 
G2 doesn't pay reviewers for every review, and it only pays in the form of Gift Cards.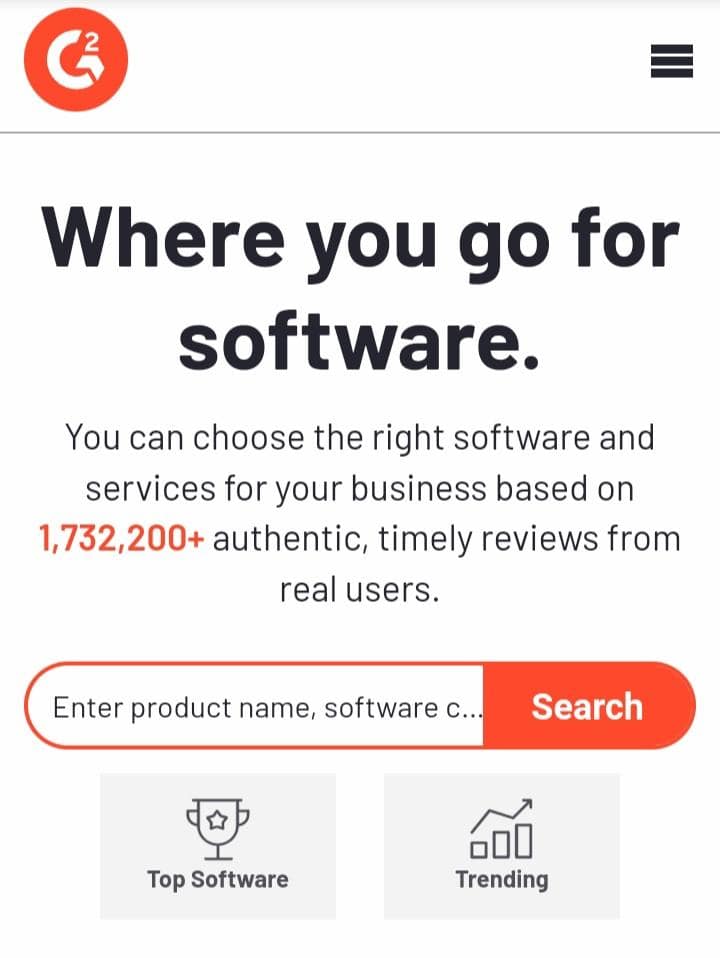 However, users that consistently upload honest reviews get paid in gift cards as a compensation. This encourages more users to participate, as nobody likes to write reviews for free.
How do I get started writing reviews for G2?
Start off by going to the homepage. Scroll down until you see this: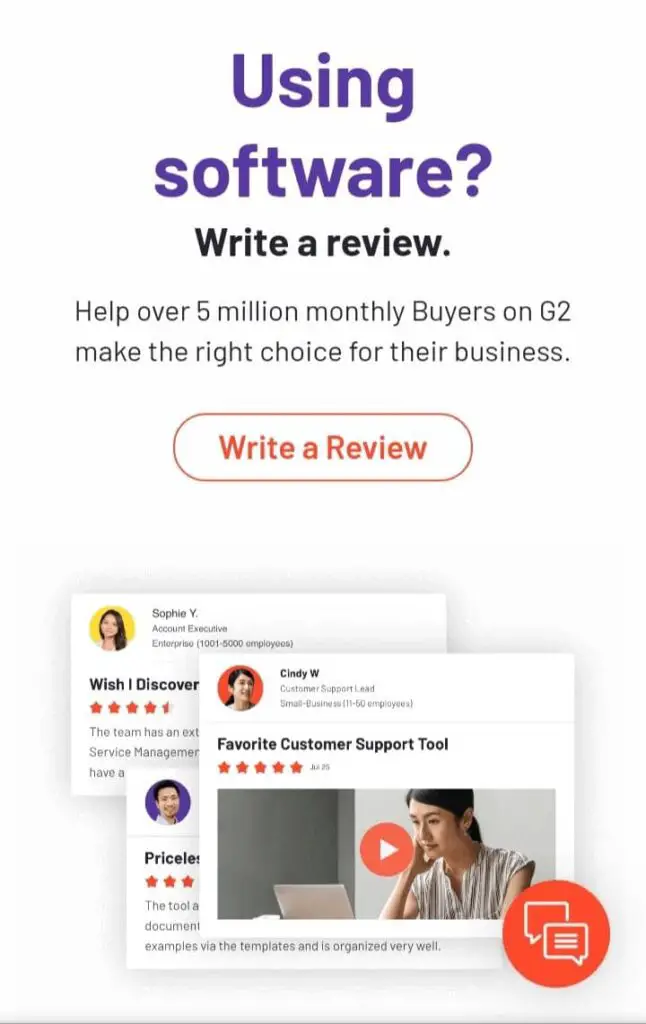 Click on "Write a review". You will get a sign up wizard which consists of three steps:
Step 1: Select the type of software you want to review.
Pick a field to show softwares relevant to it, which you'd like to review. There are various options like advertising, e-commerce, finance & accounting, HR, sales, IT, marketing, etc. If none of these fields describe the category of software you're going to review, click "Other."
You'll now be met with a list of softwares/solutions categorized into neat groups like Video Conferencing, Survey, etc. Select the softwares/solutions you use, so that you can review them or related software. You can also search for softwares using the search bar at the bottom if you have any trouble finding the software(s) you use.
Step 2: Login/Signup to G2 to begin writing review
You would be shown the list of softwares you have selected, each with a "review" button to the side. Clicking on review opens up a login/sign up window.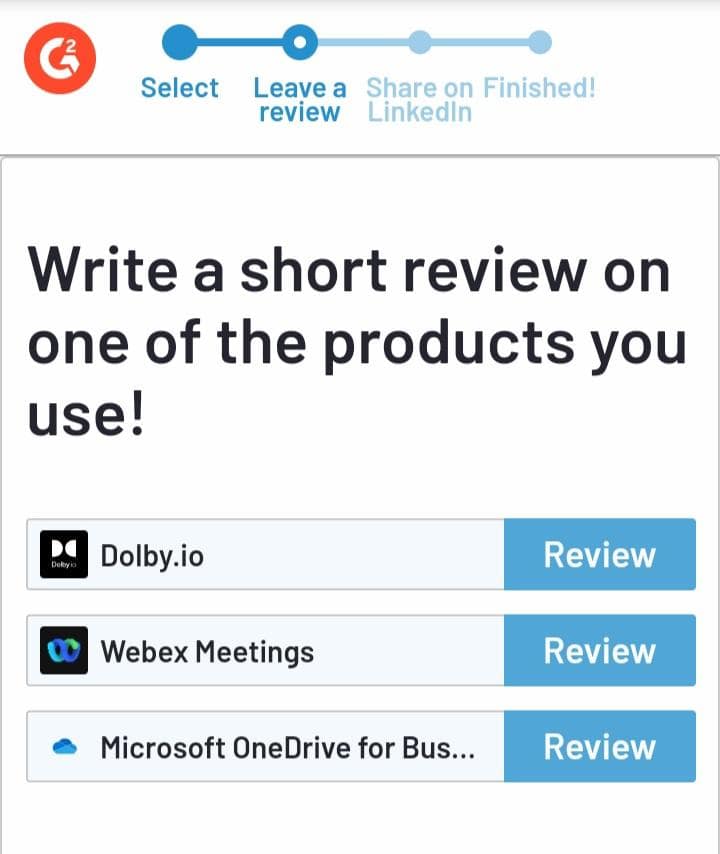 Click on "Continue to login" and then click on "create new account". 
You can sign up with your email, with Google or with LinkedIn. It's recommended that you sign up with LinkedIn so that your bio data can get synced. 
However, if you plan to sign up with Google or with e-mail, you would need to keep in mind that public domain email addresses like gmail.com are not allowed. 
You'd need to sign up with a business email address (even a custom domain will do). 
Step 3: Write the Software Review and answer a few questions.
After you've signed up, you can start writing a review on any of the softwares you selected. You would have to answer simple questions as you go through the reviewing process, like:
"On a scale of 1 to 10, how likely are you to recommend [Software] to your friends?"
This would follow the pattern of surveys. You would finally be asked to give a brief review in a textbox. After you're done reviewing, your review will be sent for approval.
When you're done with your review, you can also share your work on LinkedIn. 
How much can I earn and How will I get paid?
You get paid occasionally via Amazon gift cards or other gift cards if you're a constant reviewer. At a time, the gift card value can be anywhere between $5 to $50. 
A lot of people earn around $200- $500 per month, so it can act as a reliable source of income for people in poorer countries, and a sweet side-income for those in richer nations of the world. 
G2 Payment Proof (Gift Card)
Here's a gift card received from G2 for reviewing software on it. This is just valued at 5$, as they gave it out on my first review. But I have seen regular contributors get upto 50$ as their gift card amount.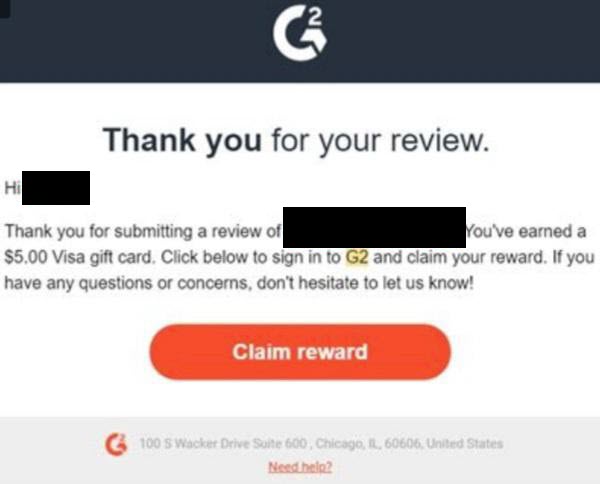 However, you need to consider the fact that G2 is a professional company and it wants high quality, and most importantly, honest reviews. Be sure that your review isn't too brief or too detailed, and is crisp, precise and to-the-point. Otherwise, your reviews will get rejected.
Make sure you write your genuine impressions of the software you are reviewing. Don't write reviews for software you haven't used.
Note: Keep in mind that you will eventually run out of softwares to review. So don't think of this method as a very reliable or long-term source of income. It's just a source of beer money from time to time.
But there are several great sites that can act as a regular source of income for you, like these sites that pay you for homework help.
Some more sites that pay via Gift Cards (and how to sell them?)
Gift cards are the preferred mode of payment for a lot of websites that do not directly deal with contract workers or remote employees. This is because they get to save a lot of money in taxes, plus gift cards are an easy way to reward people without the hassle of international payments and fees.
CourseHero rewards you with gift cards if your uploaded document gets approved. They do not mention it anywhere on the site, but just email it to you out of the blue.
Then a lot of psychological study sites like SONA Systems also give out gift cards.
Finally, most of the survey and offer websites have gift cards as a cashout option. Sites like Freecash have one of the widest variety of gift cards I've ever seen (they even have Netflix gift cards!)
If you find that a particular gift card does not work in your region, you can always sell them for a discount. There are a lot of websites that exchange gift cards for cash, but I prefer using Reddit. There's a subreddit called GCX (Gift Card Exchange) that facilitates this for you.
Note that there's always a risk involved when selling gift cards directly (P2P) with a stranger on the internet. So keep caution and try to sell to people with a good reputation. Otherwise, look for a trusted website that works in your country.
More Reading for you…