Last Updated on January 9, 2022
CDR stands for Center for Decision Research. It's a lab run by The University of Chicago and organizes various paid studies for research of Behaviour Science.
Update: CDR is one of the many sites run on a platform called SONA systems. If you are interested in participating in psychology studies, then I suggest you sign up for all SONA system sites.
This is a great and fun opportunity where you participate in psychological studies and get paid for your time.
What is Chicago CDR and how does it work?
It's an initiative by the University of Chicago to conduct worldwide behavioral science studies (just like Testable Minds). Initially, they wanted to conduct studies in their offline labs as well, but since COVID, they made it fully virtual.
Meaning any person from anywhere could participate in their studies and get compensated for their time. The studies are really interesting if you have a knack for psychology.
To signup, simply go to this link and fill up the form.
You will be contacted after 2-3 days and given instructions to access the studies and participate in them.
It can take a long while to get your profile approved, as I guess they manually go through each registration. I received my approval after almost 2 weeks, but things may be different for you.
How much can I earn and how do they pay?
Chicago CDR has a fixed rate of 12$/hour. Meaning if you participate in a 30 minute study, you get 6$. Pretty interesting way to earn money if you ask me.
You will be paid via Amazon US gift cards. They do not offer Paypal or any other gift card for now. So if you can make use of Amazon US Gift cards, or can trade it (using different platforms or reddit) for your local currency, then you should definitely sign up for this opportunity.
For another similar opportunity that pays via Paypal, check out Testable Minds.
CDR Payment Proof (Amazon Gift Card)
Updated: Finally, we have been paid by CDR Labs (or whatever their name is).
As mentioned above, they pay through US Amazon Gift Cards. Here is the payment proof below: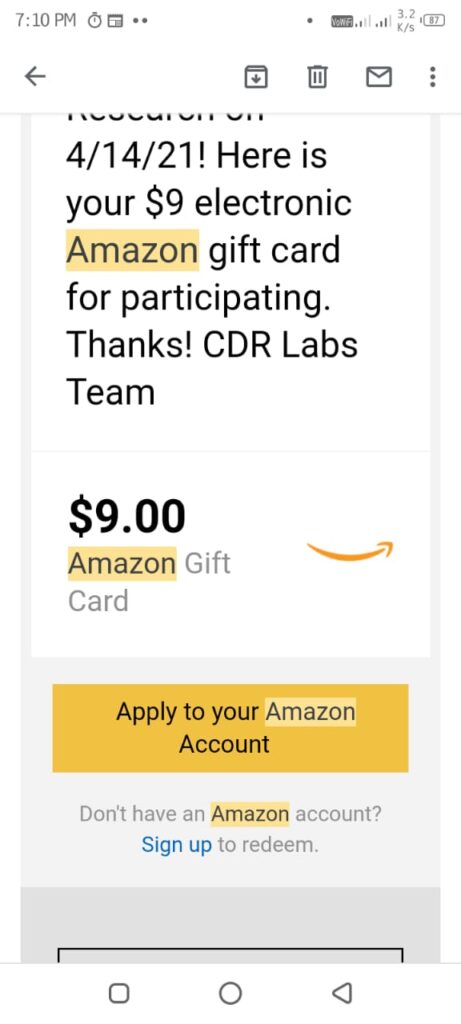 Some More Reading For You…
The concept of writing fun and interesting listicles is not new. It all started with Buzzfeed, and I have seen a lot of websites copy this model in their own way.

Textbroker is an excellent opportunity for individuals who are just starting out their freelance writing journey, and struggle with finding clients and orders.

Viewfruit is a survey panel that works in 32 countries, including a lot of Asian Countries. It is legit and has a low payout threshold of 5$.