Last Updated on March 14, 2021
uTest is one of the most popular crowd testing sites. With almost a million crowd testers working on the platforms, there is no dearth of active projects and there are new ones coming every day.
But it can be tough for a new tester to get into paid projects and earn from the platform. Even though I used to get project invitations every now and then, I wasn't selected for any of those. One of the reasons for that could be the fact that I was an Unrated tester.
Similar to Usertesting, getting your first test and getting rated is both crucial and difficult for you. After getting rated, you are more likely to get accepted to test cycle invitations. So here are 3 tips to increase your chances of getting a paid test and get rated at uTest.
Complete your Academy Courses and profile👨‍🎓
I was never accepted for a test cycle until I completed several of the uTest Academy Courses. Earlier, I had only cleared the one compulsary test cycle that they enroll you for.
Only after I cleared several additional courses on the academy was I selected for my first paid test cycle. This might be a coincidence, but I choose to believe that they prefer unrated testers who have dabbled in some academy courses as compared to the ones who are not even trying.
Which Academy courses should I complete to increase my chances at uTest?
The uTest Academy offers both beginner courses for newbies and more challenging courses for advanced testers.
The challenging ones can help you improve your testing abilities, allowing you to receive invitations to more tests. Here are 3 courses you should try to complete:
Charles Proxy: A web debugging platform that helps you to log network traffic for testing.
Academy Challenge: The Academy Challenge is the final practice test cycle, where you'll learn how to avoid duplicate bugs, compete with other testers, and create bug reports without any mistakes.
API Testing: This course teaches the basics of HTTP protocol and using an API testing tool.
Also, make sure you completely fill your profile, including your payment methods (There are a lot of payment testing cycles), smart devices, services and subscriptions you have, etc. I think I have mentioned it a thousand times throughout my articles, but doesn't hurt to re-iterate.
Don't rely on email invites, check out the Projects Board📧
You get email invites for several projects, and you might also manually check the "Projects" section in uTest. But you will be surprised to know that not all projects are visible there.
There is a separate "Projects Board" hidden within the Projects section that contains a long list of all the Projects that uTest has to offer. You can sort them by OS and Country.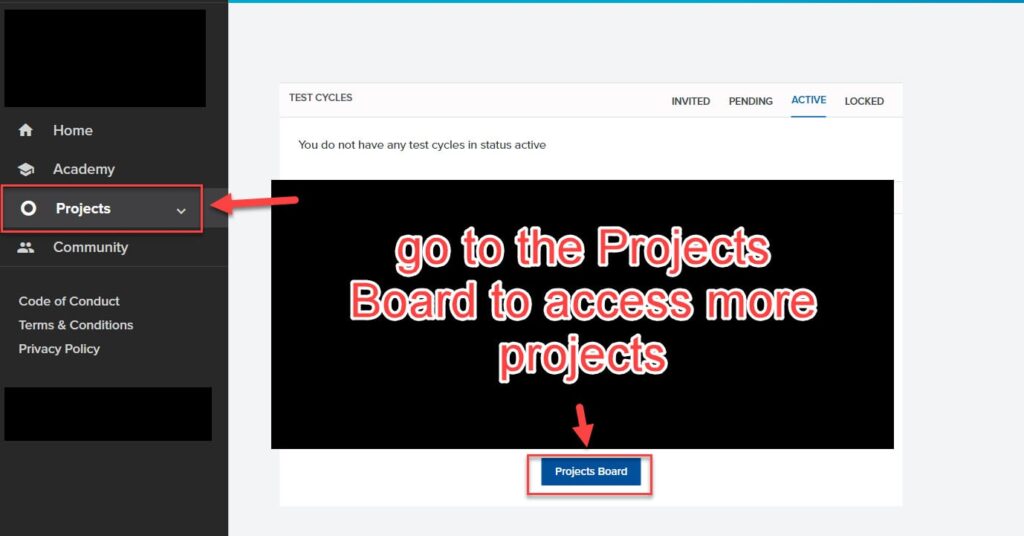 Go to Country, and select "Worldwide" to see several projects that might have not been visible to you. Apply for the ones relevant to you and maybe you will get lucky this time.
Keep checking the Projects Board manually from time to time to increase your chances of getting into a relevant project. Do not apply for projects if you don't completely match their requirements, as it will negatively affect your ratings.
Use the Community Factor 👋
This one is a long shot, but several people have reported being able to get a project by participating in the uTest Community. You can write an article or a post on any relevant topic and you might get discovered by a TTL for a project.
Considering the fact that there are almost a million testers on the platform, a little community participation and socializing might help you stand out.
Several people also communicated with the TTLs (in their practice test cycle or via the community page) and asked them if they had any open slots for testing, and were successfully placed in a paid test cycle.
Now I don't advise you to fill their inbox with desperate messages asking for work or to even bother them with constant messaging. But just try to naturally and politely ask them if they have any work available. Try to explain your situation, saying you want to get rated, and it will help you a lot.
Though a little unconventional, you might be successful in this approach.
More articles like this:
How to Pass the Usertesting Sample Test (in your first attempt)
Some Tips for working in an Appen Project