Last Updated on October 20, 2021
So you have made your Appen account, verified all your details, and set up your payment method. Now you sit and wonder when you can begin working on the site? How long till you start work and start stacking up those dollars?
What are Appen Projects, and how do I work there?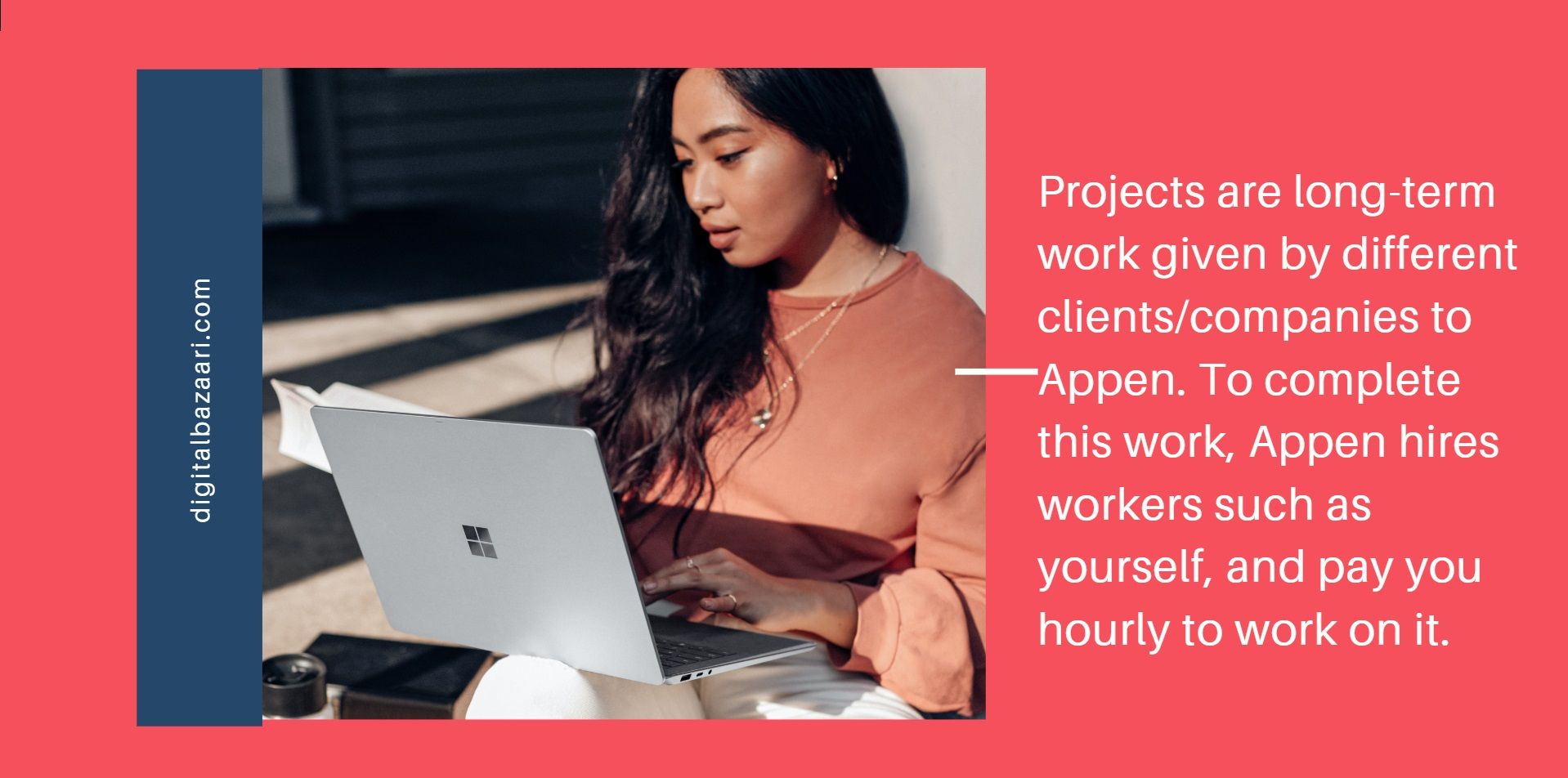 Projects are long-term work given by different clients/companies to Appen. To complete this work, Appen hires workers such as yourself and pays you hourly to work on it. The more projects you qualify for, the more work you have and the more earning potential you have.
There are lots of projects available on Appen for you to work on. Unfortunately, not all of them currently have openings for new workers. So Appen has a waitlist system that allows you to get in line for the project you want to work on.
Appen requires that to complete the setup of your account, you need to qualify for at least one project (so they can actually add you to the payroll). I personally find that they fast-track your first qualification so that you can begin working. You are likely to get qualified for at least one of the many projects within a week or two. You will find later that qualifying for a project is a very lengthy process afterward. I think it is mostly due to the high number of applicants for any given project.
How to Qualify for your First Appen Project
When you log in to your Appen Connect account after all your verification is complete, you will be presented with a list of various projects. The list items will contain the project name, their description, the project's pay rate, and a green "Qualify" button next to them.
Appen updated their projects dashboard interface recently. Some of the information presented here pertains to a previous version, but is accurate and applicable to the newer version as well.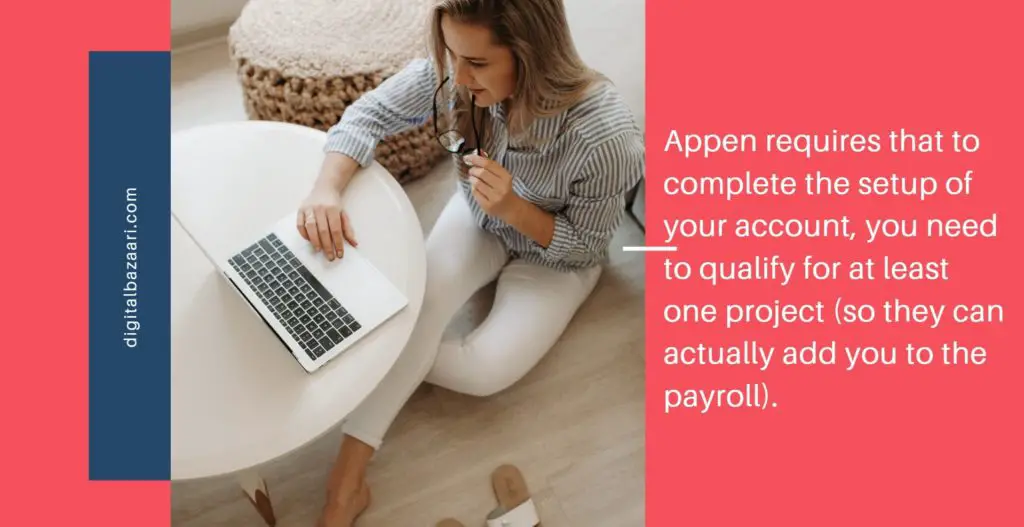 Go through each project's description, and decide which projects you are capable of doing. The project description clearly defines your requirements for the projects (such as what devices you need, what kind of work is expected from you, how many hours you need to work, etc.). Try to find as many workable projects as you can, and click the "Qualify" button next to them.
Note: Do not qualify for projects that you are not capable of doing. For example, if a project states that you need an iOS device to work on it, and you only have an Android phone. Or if a project requires you to have a LinkedIn profile that is over 2 years old, but you don't have one.
Once you decide that the project is good for you (which most of them are), simply click the "Qualify" button next to them. You will be taken to the project qualification page with any of the following output:
A project description/guidelines page might open, with a more detailed explanation of the project. At the bottom of the page, there is a button to submit your application for the project.
You will directly enter a qualification exam, asking you several multiple-choice questions to decide if you are a good fit for the project.
You will enter a page with certain terms and conditions and will require you to record your IP address as a means of submitting your application.
Whatever happens, once you have submitted your application, you will be taken to your "Active processes" page, with a popup saying "IN PROGRESS – Basic qualification package to be reviewed by Appen Ltd.". This means that you have been added to their wait-list and your application will be considered if the project has any vacancies (For the next 60 days).
In case there is no vacancy during this period, you can qualify for that project again. You will be able to see that project again under your "All Projects" tab after the refractory period is over.
Tips to Qualify more Projects
Just clicking the "qualify" button does not guarantee that you will be selected for the project. And even if selected, there is no fixed timeline of when you will start working or how much work will be available.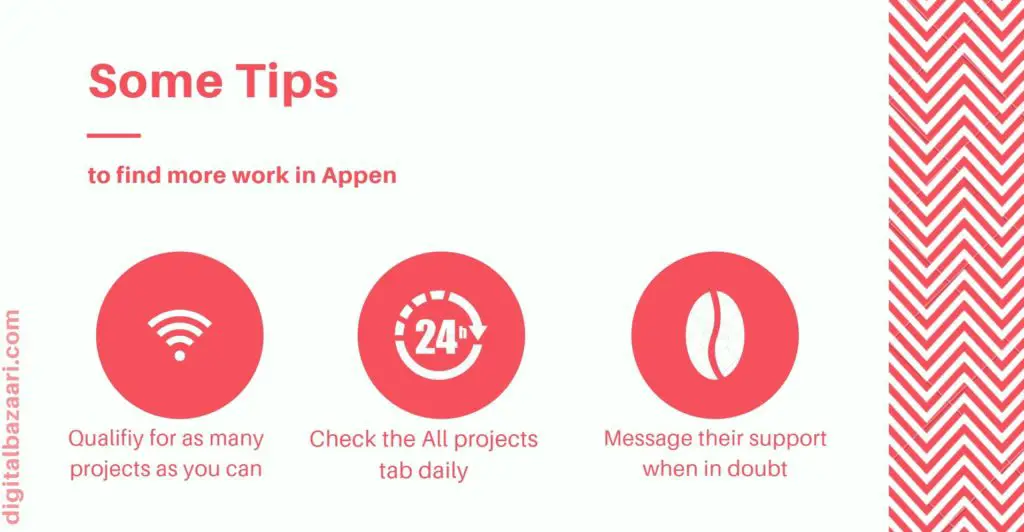 Some projects are small and end within a month or two, while some large projects may go on for years. So below I share some tips to get consistent work on Appen:
Always qualify for as much projects as you can. I remember having 22 active qualification processes at a time, yet I was selected for only 3 or 4 of them.
Your qualification wait-list resets after 60 days. This means that if you have not heard anything from them in those 60 days, and if the project is still available, you can apply for it again. You will be able to see the project again in the "All Projects" tab.
Make it a habit to check for new projects every 3-4 days, even after you have started working. Apply for any new projects that come along. This ensures that you will have a steady flow of new work as soon as your older projects finish.
Message their support regarding any confusion. They have a very active support system. If you are stuck in any project (For example, you are selected for a project, but did not receive any instructions) you can simply message them and they will try their best to help you.
Note that becoming an Appen agent is not a get-rich-quick scheme. The whole process between submitting your application, and starting work might take 1-2 months. Then add another month for payment processing. But once you have successfully kickstarted the project, you can earn a consistent side-income from the site.
Unlike Upwork, Freelancer, and other top freelance platforms, we have brought two different platforms that are more than just a gig posting platform. Find out what these two have to offer, how to apply, and how much they pay you.

When you start as a freelance writer, it feels overwhelming applying for jobs on various job boards. Here are the best writing job boards and platforms that are ideal for beginners.