Last Updated on October 20, 2021
Most of the payments I've received from Clickworkers were for doing tasks on the UHRS Platform. Clickworker is a contractor that processes my UHRS payments.

Since this payment proof was published, I've learned a lot more about UHRS and written a lot about the same. Check out the latest updated UHRS Guide (also linked above) to know more about UHRS Jobs.
Sorry that I have been a little late with this month's payment proofs. I was caught up in a lot of work and was going through several motivational ups and downs due to the COVID situation nowadays.
So here I present to you the payments received by Clickworker in the month of April. Note that this is not what I earned from Clickworker in the month of April, but rather the payments I received from Clickworker during this period. There is a month gap between your earnings and payment in Clickworker (and almost all other earning websites).
So without further ado, here are my Clickworker payment proofs for April 2020: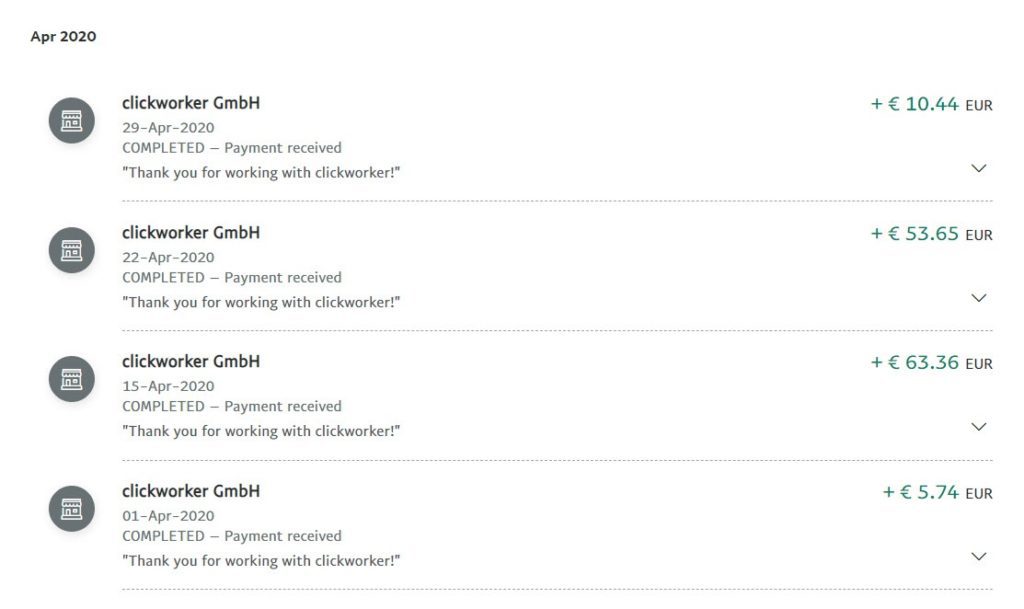 As you can see from the above screenshot, my payments from Clickworker amounted to a total of 132 Euros (around 142$). The total time I would have worked would be around 9 hours.
Seems like a good deal considering I was just chilling at my home listening to music.
So that was a pretty good month for Clickworker. To learn more about how to earn with Clickworker, read this article.
Check out some of my latest earning reports here:
A complete list of the websites and platforms that paid me in the past 8-10 months. An accurate representation of the online earning opportunities available worldwide.

Here are the sites that paid me in the past 3 months. I have included payment proofs and signup links to help you.

Check out how much I earned in the last 2 months, and which sites paid me. Some new sites this time.