Last Updated on April 9, 2020
What is a Blog ping service?
Whenever you post a blog, by default, wordpress pings one or two services informing them that a new post has been added. But you can customize this setting to add a whole lot of blog ping services.
By doing this, you can inform multiple services about your new blog post (Automatically) and get your new post indexed as quickly as possible.
How can I add multiple ping services in my Wordpress?
It is such a simple setting, that you would not believe how you missed it. To add custom ping services to your Wordpress blog, simply follow the steps below:
Goto Wordpress>Settings>Writing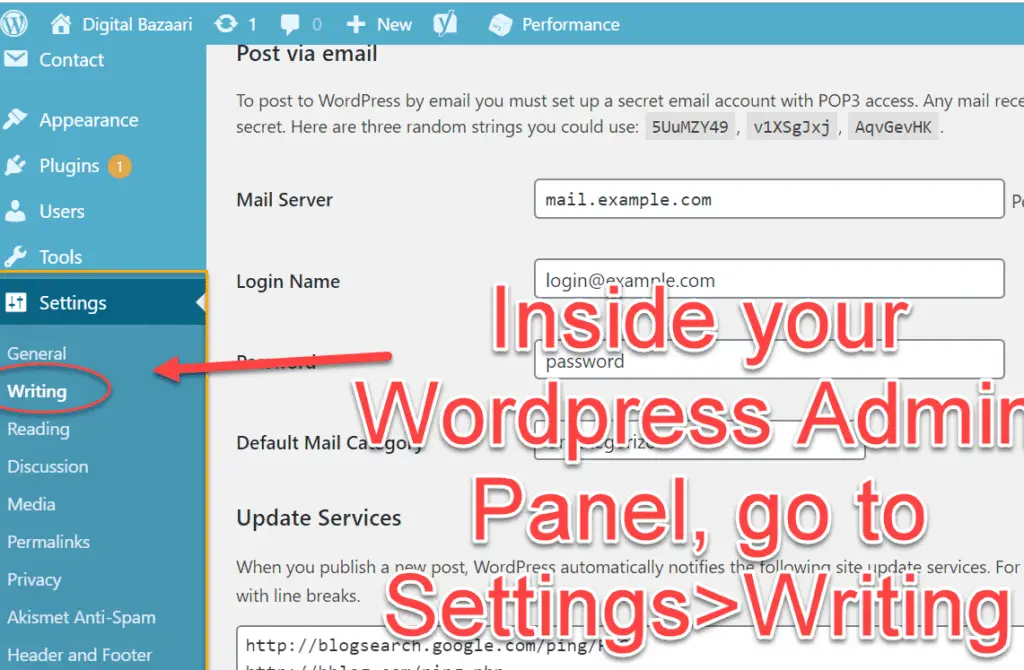 Now in that settings, you can see "Update Services", followed by a text box. Simply enter your desired services (or have a look at my list below). Finally, click on "Save Changes".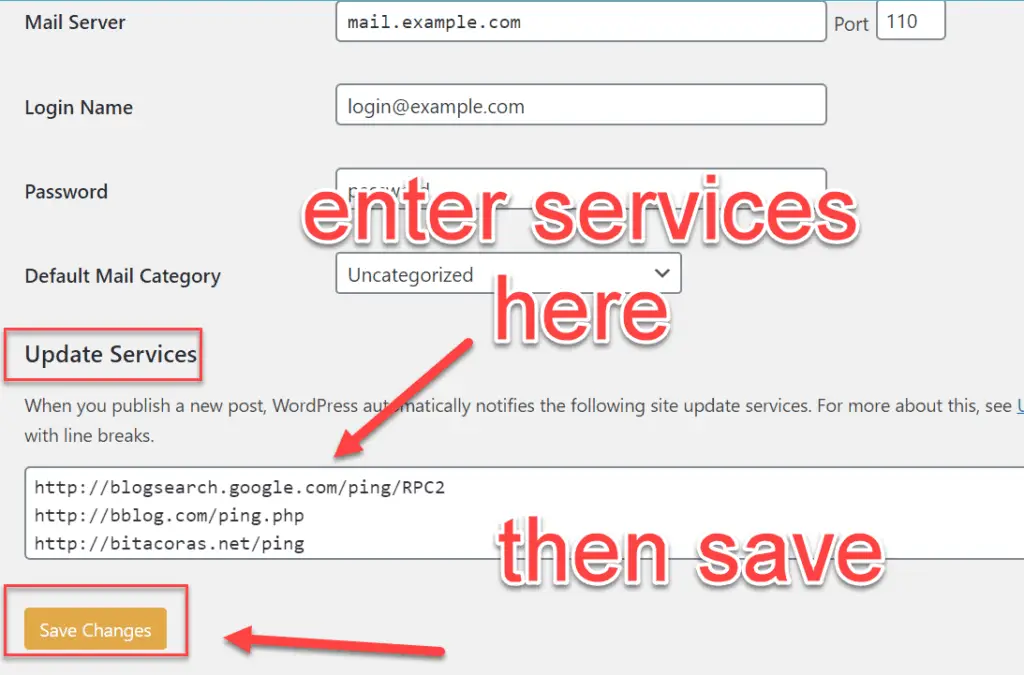 Long List of Blog Pinging Services
If you were wondering what are some of the services that you can add to your pinging services in wordpress, then here is a list that you can copy and paste.
http://blogsearch.google.com/ping/RPC2
http://bblog.com/ping.php
http://bitacoras.net/ping
http://blog.goo.ne.jp/XMLRPC
http://blogdb.jp/xmlrpc
http://blogmatcher.com/u.php
http://bulkfeeds.net/rpc
http://coreblog.org/ping/
http://mod-pubsub.org/kn_apps/blogchatt
http://www.lasermemory.com/lsrpc/
http://ping.blo.gs/
http://ping.bloggers.jp/rpc/
http://ping.feedburner.com
http://ping.rootblog.com/rpc.php
http://pingoat.com/goat/RPC2
http://rpc.blogbuzzmachine.com/RPC2
http://rpc.blogrolling.com/pinger/
http://rpc.pingomatic.com
http://rpc.weblogs.com/RPC2
http://topicexchange.com/RPC2
http://trackback.bakeinu.jp/bakeping.php
http://www.bitacoles.net/ping.php
http://www.blogoole.com/ping/
http://www.blogpeople.net/servlet/weblogUpdates
http://www.blogshares.com/rpc.php
http://www.blogsnow.com/ping
http://www.blogstreet.com/xrbin/xmlrpc.cgi
http://www.mod-pubsub.org/kn_apps/blogchatter/ping.php
http://www.newsisfree.com/RPCCloud
http://www.newsisfree.com/xmlrpctest.php
http://www.snipsnap.org/RPC2
http://www.weblogues.com/RPC/
http://xmlrpc.blogg.de
Simply copy and paste the above code, and you can ping multiple services automatically whenever you publish a new post on Wordpress.
What are the benefits of pinging multiple blog services automatically?
By doing the above Wordpress trick, you can help your post get quickly discovered by a lot of services and search engines, hence enhancing the SEO of your blog.
If you are interested in more such settings to tweak your Wordpress blog for SEO and performance, then watch this video below: